Florida State University's Great Give 2017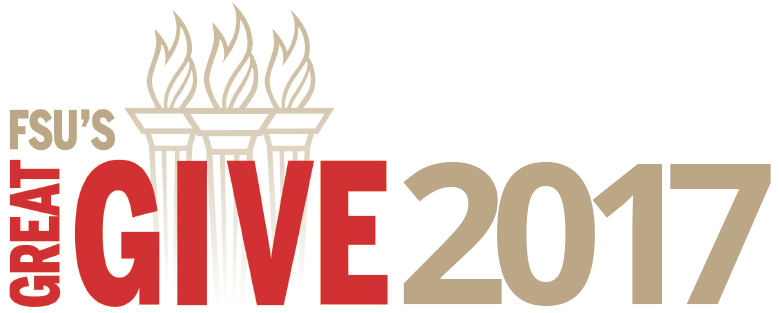 Only 36 Hours March 30-31, 2017 
Donation Windows Open Thursday, March 30, at 9AM
FSU's Great Give is a 36-hour, online, giving campaign in support of academic programs, scholarships, and student activities at Florida State University. Florida State supporters can make gifts beginning at 9:00AM March 30, 2017 and continuing until 9:00PM March 31, 2017. All College of Fine Arts projects support students – awards for professional development, travel, and the showcasing of talent to future employers.
Give back today!
Read more below about projects in need of your support:
---
Student-Curated Exhibit: Andean Nazca Pottery
Goal: $1,000
Department of Art History
Florida State University Department of Art History offers students in our Museum Object course the chance to mount their own exhibition each semester. From curating to promotion to exhibition design, the entire production is a hands-on learning experience for our students.
This April, students will mount "Visions of the Nazca: Painted Images of an Andean Ancient Society" in the William Johnston Building Gallery, set in the newly renovated, LEED-certified William Johnston Building on Landis Green. With two glass walls, facing the building's five-story atrium, the gallery is an exquisite and yet intimate space to show work. Nazca pottery features stunning naturalistic and mythological designs on thin-walled vessels in a variety of shapes.  In researching the materials, the students are focussing on the evolution of Nazca ceramics over time, as well as the cultural and religious significance of the painted motifs.
---
Dance: Spring Visiting Artist
Goal: $1,000
School of Dance
Help School of Dance's Undergraduate Student Advisory Council bring in Visiting Artist Meredith Dincolo of Hubbard Street Dance Chicago for a two-day residency. Students will be offered two technique classes and two repertory workshops. Students will also be given the opportunity to engage in an intimate conversation with Meredith Dincolo to discuss her career at the Hubbard Street Dance Company and ask pertinent questions related to a career in dance.
About Meredith Dincolo: Meredith began dancing at age seven in Indianapolis and continued her training under Iacob Lascu in Michigan. She graduated from the University of Notre Dame in 1993 and moved to Chicago to pursue dance. In 1996, Meredith joined Hubbard Street Dance Chicago, where she spent four years under the direction of Lou Conte. In 2000, she joined Lyon Opera Ballet and went on to the National theater Mannheim, under Kevin O'Day and Dominique Dumais. Meredith returned to Hubbard Street Dance Chicago in November 2004.
---
Kul'ttovary Exhibition 2017
Goal: $1,000
Department of Interior Architecture + Design
A unique exhibition on Soviet design is coming to FSU in the Fall of 2017! Support this engaging, multi-sensory installation focused on cultural consumer goods produced in the USSR before and after World War II. 
"Kul'ttovary – Bringing Culture into the Soviet Home" will be curated and designed by Dr. Yelena McLane together with students from the Department of Interior Architecture & Design.
The Russian term Kul'ttovary translates roughly to "cultural goods." The concept of cultural goods was well known in the Soviet Union. For decades, each city, town, or village had at least one retail store called "Kul'ttovary." The exhibition will focus on the history of Soviet design, the retail industry, and consumerism, driven by socialist ideologies aimed at promoting culture (literary, musical, and physical), planning for a cultured citizenry, and effectively distributing cultural goods within the USSR. The exhibition is scheduled to open in the William Johnston Building gallery in September 2017.
---
Theatre Senior Showcase
Goal: $5,000
School of Theatre
The School of Theatre at Florida State University is consistently recognized as one of the finest theatre programs in the nation. Alumni of the School are working in theatre and other related fields throughout the United States and in many foreign countries. The Music Theatre and Acting Programs are highly competitive and prepare talented students from around the country for professional careers. Students are offered a comprehensive curriculum to provide them with the training and skills necessary to meet the demands of a challenging career.
The FSU School of Theatre presents a showcase of senior talent to agents in  New York each year, through film reels and live performances. Your gift helps us promote these exceptional students and ensure that they are the next stars of stage and screen.
---
Dog Days Theatre
Goal: $5,000
FSU/Asolo Conservatory for Actor Training
Help the FSU/Asolo Conservatory as it embarks on its new summer program, Dog Days Theatre! The inaugural season will feature the contemporary comedy RELATIVELY SPEAKING and the thrilling noir novel adaptation DOUBLE INDEMNITY.
With Dog Days Theatre, the FSU/Asolo Conservatory will produce two plays each summer to meet the demonstrated interests of the Sarasota community AND expand upon the training opportunities provided to our students. The project will not only satisfy the demand this community has for professional theatre during the summer months (a demand that increases as the number of year round residents expands);  it will also take the Conservatory to the next level by adding a new production component that increases by 50% the opportunities provided to the 36 artists who have chosen to come here from around the world to study with our program; it will provide work for the professional actors, directors and designers living in this region; and it will add a valuable component to Sarasota's vital arts scene.