Paint Around Gala & Auction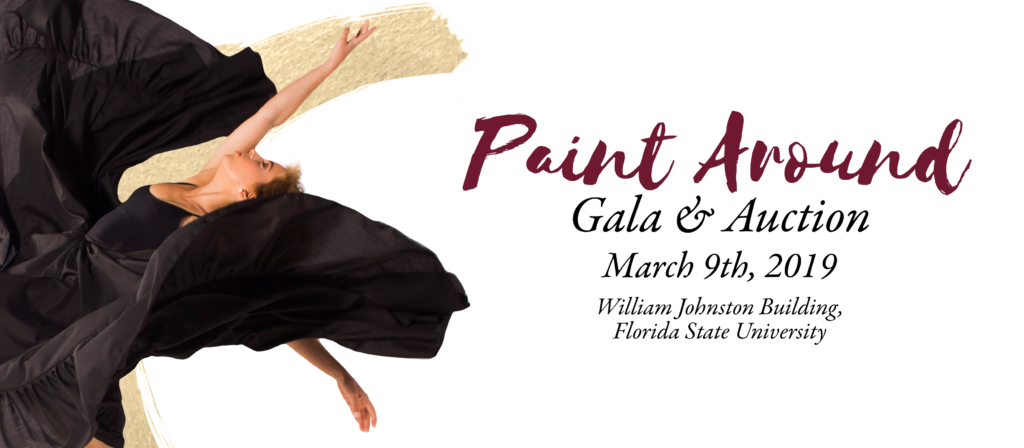 March 9th, 2019
William Johnston Building,
Florida State University
---
About the Paint Around Gala & Auction
The College of Fine Arts is proud to announce the Paint Around Gala & Auction, a biennial event benefiting and highlighting Art, Art Education, and Dance at Florida State University and capitalizing on our amazing arts resources for a night of unique entertainment. This year's gala will be held on Saturday, March 9 at 7:00 PM at the LEED-certified William Johnston Building, a piece of art itself in how it reflects FSU's historical architecture on the outside, with a crisp modern feel inside. All proceeds from the evening will help to fund student scholarships and travel grants for research and conferences.
School of Dance Professor, choreographer, and lead creative for project and set design for this event, Tim Glenn, will debut  Iron-horse Ocean, a three-part dance ensemble. This concept-specific movement suggests a futuristic and dreamlike, intercontinental journey traveling across an ocean on high-tech, floating tracks. Improvisational sculptural motion from the dance will be used as inspiration for the Paint Around artists. The original version for proscenium stage has been restaged, deconstructed, and re-conceived by FSU dancers for Paint Around within the William Johnston Building atrium.
Live music for the performance will be provided by Daniel Smith and improvisational sculptural motion from the dance will be used as inspiration for the Paint Around artists.
Announcing our Celebrity Artists
Marina Brown is a figurative watercolorist and portrait painter who uses her background in dance and music, as well as inspiration from her travels, to create works filled with movement and life. Fascinated with the color of skin, the structure of the human form, and the evocation of rhythms that can be evoked only through watercolor, her paintings retain a lightness not found in other mediums. Each painting tells a short story…which seems appropriate given that Brown is also an author and novelist. Each painting is meant to leave the viewer filled with joy and tapping his foot to an internal beat. Brown has exhibited her work in juried competitions across Florida. She writes for Tallahassee Magazine, and she is a Board member for FSU Friends of Dance.
Cosby Martin Hayes Prior to earning his BFA in Studio Art from FSU in 2014, Cosby Hayes found his passion for public art through graffiti. For the better part of a decade, Hayes spent most of his time filling black books and painting all of the local spots in Tallahassee. The transition to large-scale murals came naturally via his love for graffiti. During his time at FSU, he studied the Old Masters, who became strong influences on his art. After moving to Miami in 2015, Cosby began receiving commissions for public works of art and never looked back. His work has taken him to Argentina for the Meeting of Styles as well as cities across the Southeastern US where he has been commissioned by city governments, non-profits, and businesses to bring color and energy to walls. Cosby Hayes now lives in Tallahassee. As a community activist and organizer, he is constantly creating with his girlfriend and collaborator Sarah Painter.
Kelly Pettit has worked in the Big Bend region as a decorative artist, faux finisher, and muralist for the last 15 years. Her work incorporates wall techniques to create one-of-a-kind backgrounds. Working with plasters and different mediums, Pettit considers her trowel 'like my right hand'. Originally from Boston, Pettit has called Tallahassee her home for 23 years and enjoys working within the community, using her talent to brighten spaces for local hot spots like Fifth & Thomas as well as social service organizations like Boys Town of Tallahassee.
Eluster Richardson Born and raised in Tallahassee, Florida, Eluster began painting as a child in the third grade. His works have won numerous awards in Florida and exhibited in the Bethune-Cookman College fine art gallery in Daytona Beach and the Zora Neale Hurston Museum in Eatonville, Florida. He was the visual arts director for Tallahassee's 1998 Harambee Festival. In his drawings, and oil and watercolor paintings, he takes special interest in the depiction of historic personnages and sites in the North Florida region, particularly around Tallahassee. Eluster is the Artist-in-Residence for the Riley House Museum and Resource Center of African-American History and culture, which is the home of a collection of historical works by Eluster.
Allison Spence is a nationally exhibiting, inter-disciplinary artist interested in subtle patterns in nature and culture that seem to actively defy—or intentionally confuse—the very human tendency towards definition. Her research frequently branches into different fields, including biology, horror, comics, botany, digital translation, and American art history. Spence received her MFA from University of California San Diego, and is pleased to be back in her home state, having joined Florida State University as an Assistant Professor for Studio Art Foundations in 2017."
Michelle Wilcox is a 2nd year graduate student at Florida State University pursuing her Master of Fine Arts and proudly holds her Bachelors Degree in Art and Art History also from Florida State University. Her primary mediums are painting and drawing. During her time in Tallahassee, her painting has developed as she has studied under FSU painting professors Mark Messersmith, Lilian Garcia-Roig, and Carrie-Ann Baade. Her chosen subjects of everyday objects are rendered with contemplative observation, providing a contemporary feminine insight into the historic genre of still life painting through choices of lively color and dynamic composition. Michelle's work captures form through the intersection of light and space, seeking to provide an essence over pictorial representation.
---
Sponsorship & Tickets
Tickets go on sale February 1. For ticket information, contact Events & Outreach Coordinator, Dana Sterneman, at (850) 645-8283 or dsterneman@fsu.edu.
Sponsorships are available, starting at just $250 and include a VIP reception with the artists, reserved parking and reserved seating. For sponsorship information, contact Alumni Relations & Annual Giving Coordinator, Ellen Agrella, at eagrella@fsu.edu
Diamond Sponsors:

Ruby Sponsors:
Kathryn Karrh Cashin | Dermatology Associates of Tallahassee | Dr. Andrea Friall & Mr. Eric Friall | GRC Architects | Dr. T. Lynn Hogan & Robin Fowler | H2Engineering, Inc. | Paula Moyer Jones & Greg Jones | Jonathan Klepper & Jimmy Cole  | Lake Tribe Brewing Company | Laura & Sam Rogers | Southern Standard Construction | Target Print & Mail
Sapphire Sponsors:
Karen Asher-Cohen | Rick & Joyce Fausone | The Gordon Hansen Family | Herbert H. & Mary G. Jervis | Brett & Caroline Player | Radey Law Firm | Kathy & Richard Zorn