Excerpts by Kathryn-Kay Johnson

The College of Fine Arts offers an extraordinary class,  Themed Entertainment Production Techniques: Character Plaster (ART4928C), which provides an introduction to "character plaster". Character plaster is the production of hard finishes that mimic other materials, including rockwork, themed paving, and architectural facades such as faux stone and plaster, a technique used in a process called placemaking.
In the class, students learn a wide range of skills: from the basics of the creative process (research; sketching design possibilities; discussion, critique, and alteration of a design) to diverse 3D fabrication techniques (such as carving to-scale models from foam; cutting and welding steel for structural support; bending rebar and pencil rod into unique shapes) to more distinctive methods of fabrication (like making a silicone mold of a tree). Finally, the class includes an excursion to Orlando to study character plaster techniques and to see how the  Walt Disney Imagineering (WDI) creative team executes mountainous endeavors.
The Themed Entertainment Production Techniques: Character Plaster course saw its inception a year and a half ago, in Fall 2014, with Department of Art Chair and Associate Dean, Carolyn Henne. Henne lead the class to Disney World and through the entire creative process toward completed sculptures of about 6'x3'x3'. Several of the students went on to have summer internships with WDI and one of those students, 2015 Studio Art B.A graduate Shawn Turk, accepted a full time position with WDI after his internship.
This year's class is instructed by Paint Shop Manager­­ Jason Strom with help from TA, first year Studio Art MFA candidate, Matthew Lawrence and with regular contribution from Imagineers Hormay and Meyers. Jason Strom helped with Henne's 2014-2015 course, serving as a paint technique specialist. He revealed that he is "insanely grateful" to be teaching this class, describing his time at FSU as "one of the greatest things that has ever happened for me."
For most people who have never seen the paint shop, it is enormous. Located in the Carnaghi Arts Building (CAB), the Paint Shop is a hub of resources for the theatre scenic design students to build large, themed scenes for FSU School of Theatre productions. The Paint Shop Manager­­ (Strom) is in charge of upkeep and maintenance of the Paint Shop and supervises the scenic painting for the main shows. In one school year, shows can range from Shakespeare's Twelfth Night to Legally Blonde, which means scenic painters have to consider how to create a setting that feels like a 17th century interpretation of a classical civilization and quickly thereafter create a place that properly portrays a Delta Nu. With just the environment, the scenic painters create a narrative that accurately reflects or compliments the larger story; aiming for realism or drama, taking into consideration stage lighting, the movement of the thespians, audience proximity, and much more.
"In theater, we get everything thrown at us," says Strom. And because of this, a scenic painter's most important skill (other than staying organized) is the ability to think and adapt in order to catch the right combination of wonder and feasibility. This is exactly what is required of any great artist: adaptability and inventiveness.
Zsolt Hormay, Vice President of Creative, and Colleen Meyers, Character Paint Finish Art Director for WDI follow the class closely. They each visit the class at regular intervals, sometimes unexpectedly, to keep up with the progress that the students are making and to help their compositions grow stronger. The class follows a process that can be broken down into: research and narrative building, design and small scale pre-production, sampling, and production (building the structural framework, sculpting, painting, and additional detail work).
---
Research:
In the first couple weeks of the class, each student researches locations around the world that interests them. They then narrow it down to one place whose story they want to tell through their sculpture and create a presentation to pitch their location and its narrative.
Kristina Drespling – Scotland
"I chose to do the Lew Castle sea wall on the Isle of St Lewis in Scotland.  I picked this structure because it is actually not a true castle – once used as a school, hospital, and a home to the rich.  It is going through major renovations this year because walls are collapsing and the inside was deemed unstable… The story behind my composition is the modern issues of its construction."
---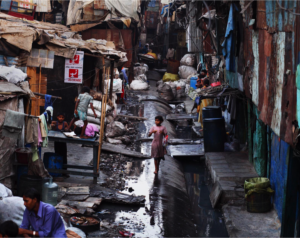 Design:
Once each student chooses a location and figures out the narrative that they want to tell, the class proceeds into design mode. Taking the majority of the first semester to perfect, design mode begins with sketch ideas of possible ways each student could utilize their allotted 6'x6'x6′ space.
After compiling and narrowing it down, the students focus on one design of which they make a line drawing of their plan. The line drawing is a 1″:1′ scale drawing of what the composition will look like, offering several different views of the composition.
The students then move to 1″ scale models of their proposed composition. Sculpted and carved from [name of] foam, the scale models present the first three-dimensional, 360 degree look at what the larger sculpture would look like. "Make the tree sexier," a famous critique. The students make alterations after each critique and before the next class.
From scale models to color drawings, each student create a color rendering of what the final product will look like, colored as they plan to color the larger piece.
The composition goes through further critique before beginning the final, fully modified model; this one carved, again, from [name of] foam on a 1.5″:1′ scale. After sculpting, the students create color boards to map out the color plan for each different material within the composition.
Moving, finally, to coloring the models. The models are first covered in [name of] glue then each student begins painting. These larger color models take hours to complete before going through a few final critiques with Strom, Lawrence, Henne, Hormay, and Meyers. "Less fairytale, more distressed," "sexier still," they suggest.
The biggest takeaway from this class, aside from noticeably stronger arms, is understanding and experiencing exactly what needs to happen during the planning and design phase of a large project. Typically, student artists create smaller pieces that either require a moderate amount of planning or that can begin with just a vague idea of concept and form while  developing drastically during actual production. But for those who want to make a life of being an artist, the scale at which they work will likely grow.
---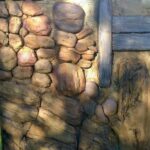 Sampling:
Before diving directly into the sculpt, the students work on a sample board to get a hang of working with the cement and to practice sculpting different types of material from the cement mixture, such as wood, brick, and rock. After sculpting, they try their hands out at adding color, applying acid stain and smith paint to their sculpt. To the left is Kristina's sample board.
---
Production:
Production is the behemoth. Strom and TA, Matthew Lawrence, take the models and create large construction plan drawings that detail exactly how the foundation of the structure is to be built, approximately how much steel is needed, and the lengths that need to be cut. Lawrence and several of the students are trained on the industrial-sized cold saw in the Scenic Shop to make clean accurate cuts of the angle bar steel. Cuts for smaller pieces of angle bar are made on the band saw.
The skeleton of the sculptures are composed of angle bar steel for structure and strength and rebar and pencil rod for smaller structural detail. It is then covered entirely with diamond mesh lath (a fishnet-style expanded steel weave that comes in long sheets), to allow plaster/stucco to stick to the structure without falling. When the piece is completely wrapped in lath, the students then throw cement onto it, covering the entire structure with about a 1/2″ thick scratch coat layer. The scratch coat is the first layer of cement on the structures and it provides a surface that holds the next and final layer of cement, which is thicker and will be sculpted to mimic the look of wood or rock or any other desired material.
After cutting the pieces, the aforementioned production process begins. With the help and guidance of welding master Max Gross, he and Lawrence handle the welding torches and help the students piece each giant structure together. Although the students focus most of their attention on their own project, this portion of production is largely a cooperative effort.
The bending and cutting steel and rebar to create the skeleton for the final piece was a real learning experience. I couldn't of gotten everything cut without the help of my class mates. It is definitely a team experience"

-Kristina Drespling.
The students then finish up the sculpting portion of production. This is the end of the construction phase and the first step of placemaking, that means making wood look like wood, stone look like stone, etc. After the sculpt comes the painting. Painting involves three steps, acid stain, Smith's color stain, and paint. The acid stain and smith provide an undertone to the color and the paint is the final detail of color. The final step will be finishing details sculpted from Sculpting Epoxy.
---
After two semesters of continuous hard work, both mental and physical, the class showcases impressive works from the students of Themed Entertainment Production Techniques.