FSU Alum Emory Johnson Receives 2014 Tregre Award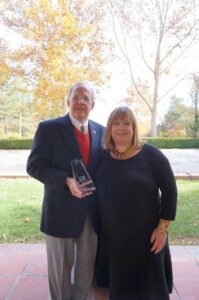 We are pleased to congratulate Emory Johnson as our esteemed 2014 Tregre Award Recipient.  Johnson says of this honor:
"The phone call regarding my selection as the 2014 Louis Tregre Award recipient came as an honor beyond words.  Upon reflection, the efforts of Louis and many others within our design profession have impacted my life now for over forty years. First, my passage of the NCIDQ Examination in 1974 as one of its earliest applicants, followed by my demand that the NCIDQ Examination be included as the test in 1994 as I authored the Florida Legislative Practice Act and now, another twenty-year cycle of this magnificent award in the honor of Louis S. Tregre, a pillar of the modern interior design profession. I am truly humbled."
Johnson currently spends his time between his office in Tallahassee, Florida and family farm in South Georgia which dates to 1855. He is a graduate of the Florida State University Interior Design Program and has served on various committees through the years including Vice President of the FSU Alumni Association, founding Chair and longtime member of the Advisory Board for the FSU College of Human Science and currently as the founding Chair and member of the Advisory Board for the College of Fine Arts of which includes Florida States' nationally recognized interior design program.
Johnson is currently serving his second appointment to the Florida Board of Architecture and Interior Design, having been appointed first by Governor Charlie Crist and most recently by Governor Rick Scott. Prior to the appointment to Florida's regulatory board, Johnson served as the expert witness to the board's prosecuting attorney for issues pertaining to the practice of interior design.
In 1994 Johnson was the key author and volunteer lobbyist of the Florida "Interior Design Practice Act."
Committee activity with CIDQ has included serving as the former Chair, National Education Committee; former Chair, National Education Task Force; former member Juror Guidelines Committee; former member, Education Requirements Task Force; and, serving currently as the Florida Delegate to CIDQ.
Johnson served as Chair for eighteen interior design accreditation visits for CIDA as well as serving formerly as Chapter President and National Board member representing the Florida North Chapter of ASID.
In addition to interior design and education activities, Johnson serves as a member of the Samaritan Counseling Center board of Bainbridge, GA as well as an honorary member of the Leon High School Foundation of Tallahassee.
Awards Johnson has received include:  ASID Medalist Award, ASID Chapter Presidential Award, the Florida Bud Merle Award for public service, Joe Crine Award for public service to music program of Decatur County Georgia, recognition as Centennial Laureate alumnus by Florida State University and recently was awarded a ceremonial bench on the Florida State campus acknowledging over thirty years of volunteer service.
About the Louis S. Tregre Award
Louis S. Tregre was a beloved founding director of CIDQ.  Beginning in the late 1960s, he worked passionately and tirelessly to form an independent, autonomous organization to develop standards and guidelines for determining competency in the practice of interior design. Upon CIDQ's incorporation as a not-for-profit organization in 1974, Louis served as its first President. He continued in this role until the mid-1980s, when his commitment led to his appointment as President Emeritus—a position he held until his death in 1991.
NCIDQ would not exist today without the vision, commitment and dedication Louis gave to the Council. The level of unrelenting volunteer effort he put forth for more than 30 years is a reminder to us all about how essential volunteers are to advancing the mission and ensuring the success of an organization.
The Louis S. Tregre Award was created in 1991 to honor the memory of Louis. This award recognizes outstanding volunteer service to the Council at the grassroots level. The Tregre Award honors those volunteers who have worked diligently and consistently to further the goals of the NCIDQ Examination.
The Council for Interior Design Qualification (CIDQ) is the global leader in establishing standards of competence for interior design professionals through the development and administration of the NCIDQ Examination. More information about the organization may be found at www.ncidqexam.org.