2015 Paint Around Gala & Auction
We hope that you will join us in supporting Florida State University's Departments of Art, Art Education and School of Dance as we present the 2015 Paint Around Gala & Auction.
Saturday, April 25, 2015
7:00pm
William Johnston Building
Florida State University
The Paint Around Gala & Auction is a bi-annual event benefitting and highlighting Art, Art Education and Dance at FSU, capitalizing on our amazing arts resources for a night of unique entertainment. This year's gala will be held on Saturday, April 25 from 7-9p at the recently renovated, LEED-certified William Johnston Building, a piece of art itself in how it reflects FSU's historical architecture on the outside, with a crisp, modern feel inside.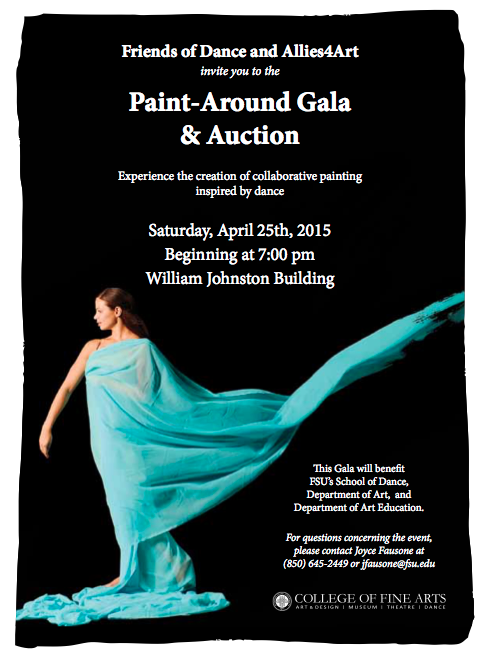 Imagine a centerpiece of esteemed artists in front of their own canvases, painting a group of dancers in pose, all on display for guests. A jazz trio plays in the background as  guests eat, drink and mingle. The music stops…The painters rotate to their colleague's canvas…The painting begins again. Guests are encouraged to walk among the painters, to examine their technique from as close as an arm's length. At the end of the evening, after each artist has their hand at another's canvas, the collaborations will be auctioned to guests.
Our 2013 Paint Around Gala & Auction raised more than $12,000 for student travel and scholarships in art, art education and dance thanks to our many sponsors and ticket buyers. We hope to exceed that goal this year, but we can't do it without your help.
For details on how you can become a sponsor of this exciting and unique event, we have enclosed details in a downloadable packet, as well as pictures and sponsor listings from the previous Paint-Around Gala & Auction. As a reminder, proceeds from this evening will provide scholarships for FSU School of Dance students, as well as, support research and travel for FSU Art Education students.
Individual tickets are $60 and may be purchased at the door or in advance by calling Joyce Fausone at (850) 645-2449 or sending a check made payable to FSU Foundation to:
Paint Around Gala & Auction
FSU School of Dance
130 Collegiate Loop
Tallahassee, FL 32306-2120
---
Artists in Attendance
Many of you joined us in 2013 for a very fun and inspiring evening. We believe that this year promises to be just as memorable. We are very excited that the following artists have agreed to join us:
Carrie Ann Baade
Marina Brown
Audra Pittman
Eluster Richardson
Noah Verrier
Carrie Ann Baade
Carrie Ann Baade is an internationally exhibiting artist whose oil paintings are rich with allegorical meta-narratives. These painted parables combine remnants of Renaissance and Baroque paintings, creating surreal landscapes inhabited by exotic flora, fauna, and figures. As a contemporary painter, she returns to the relevant moments in art history in order to reclaim them, not merely as a quotation of a theme or an image, but also as the materiality of methods and techniques that ultimately create them.
For more information and a full list of works, please visit her personal website.
---
Marina Brown
Marina Brown is a figurative watercolorist and portrait painter who uses her background in dance and music, as well as inspiration from her travels, to create works filled with movement and life. Fascinated with the color of skin, the structure of the human form, and the evocation of rhythms that can be evoked only watercolor, her paintings retain a lightness not found in other mediums. Each painting tells a short story…which seems appropriate given that Brown is also an author and novelist. And each painting is meant to leave the viewer filled with joy and tapping his foot to an internal beat. Brown has exhibited her work in juried competitions across Florida. She writes for Tallahassee Magazine, and she is a Board member for FSU Friends of Dance.
For more information about Marina, please visit her facebook page.
---
Dr. Audra Pittman
Dr. Audra Pittman works in a variety of mediums from oils, watercolors, acrylics, mixed media, and colored pencils. Her preferred subjects include children's portraiture and abstract expression. Pittman holds a B.F.A. in Illustration, an MA in Teaching, and a Ph.D. in Art Education/Arts Administration and Art Museum Education. She has taught at Lander University and was former Chair of the Department of Professional Education at Savannah College of Art and Design. Audra is the owner and founder of Suite P Creative Studio in Tallahassee and the Executive Director of the Council on Arts & Culture for Tallahassee and Leon County (COCA). An active volunteer, Pittman recently served as Vice-Chair of the Cultural Plan Review Committee and serves her FSU alma mater as a member of the Dean's Advisory Board for the College of Fine Arts.
---
Eluster Richardson
Born and raised in Tallahassee, Florida, Eluster Richardson began painting as a child in the third grade. His works have won numerous awards in Florida and exhibited in the Bethune-Cookman College fine art gallery in Daytona Beach and the Zora Neale Hurston Museum in Eatonville, Florida. He was the visual arts director for Tallahassee's 1998 Harambee Festival. In his drawings, and oil and watercolor paintings, he takes special interest in the depiction of historic personnages and sites in the North Florida region, particularly around Tallahassee. Eluster is the Artist-in-Residence for the Riley House Museum and Resource Center of African-American History and Culture, which is the home of a collection of historical works by Eluster.
---
Noah Verrier was recently featured in New American Paintings (Issue #111) as one of 40 of the nation's top painters amongst 800. Verrier was also awarded the Emerging Artist of the year award in 2007 by the Von Liebig Museum of fine art and the Naples National Art Festival. His most recent body of work is about commitment – a series of 150 oil paintings of the sunset, captured every Monday, Wednesday and Friday for a year – conveying the light of the setting sun and its emotional impact on the landscape. Verrier currently teaches Painting and Drawing at Florida State University.
For more information about Noah and a full list of works, please visit his personal website.