2016 Opening Nights Community Mural Project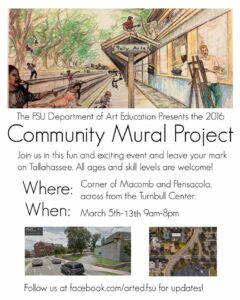 At the beginning of March, The Department of Art Education and Opening Nights will begin their annual community mural project. From March 5 – March 13, 2016 all members of the Tallahassee community are encouraged to participate in making a lasting mark on the city. The mural will be designed by art education students then brought to life with the help of volunteers and community engagement. The event will be located on the corner of Macomb Street and Pensacola Street, across from the Turnbull Center and will run from 9 a.m. – 8 p.m. until completion on March 13th. All ages and artistic skill levels are welcome to participate in this collaborative event.
For more information, please follow the Facebook event page or visit the Opening Nights Website.