2017 Department of Art Education AAM Annual Meeting & Museum Expo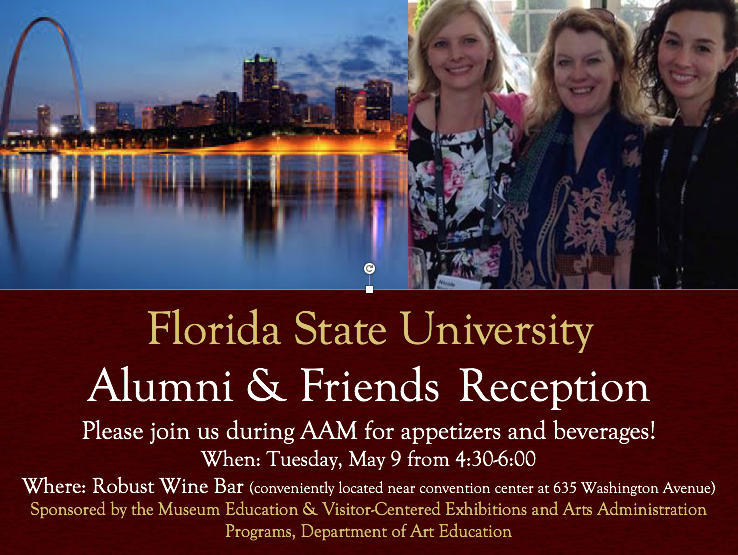 The Department of Art Education's Arts Administration and Museum Education and Visitor-Centered Exhibitions (MEX) programs cordially invites FSU alumni, friends, and colleagues attending the American Alliance of Museums (AAM) Annual Meeting & Museum Expo in St. Louis to the FSU Alumni and Friends Reception.
Aiming to "champion museums and nurture excellence in partnership with our members and allies," the AAM has continuously served and assisted the museum community by assisting in developing the best standards and practices, gathering and sharing knowledge and resources, and providing advocacy on issues of concern. Representing more than 35,000 individual museum professionals and volunteers, institutions, and corporate partners serving the museum field, the Alliance stands for the broad scope of the museum community.
As part of the methods to enrich the museum community, AAM holds an Annual Meeting & MuseumExpo (AMM). Considered the largest gathering of museum professionals in the world, the AMM offers opportunities to hear diverse perspectives on a wide range of topics, connect with your colleagues from across the country and around the world, and to engage in meaningful dialogue with peers from diverse backgrounds and from museums of all types. career management, collection management, creational practice, development and membership, education audience research and evaluation, exhibit planning and design, facilities management, forces of change, management and administration, marketing and communication engagement, media and technology, and museum directors.
The 2017 AMM will take place from May 7th to the 10th at the America's Center Convention Complex in St. Louis. The FSU Alumni and Friends Reception will take place on May 9th from 4:30p.m. to 6:00p.m. at Robust Wine Bar & Cafe, next to the convention center.
The Department encouraged you to attend the 2107 AAM and the FSU Alumni and Friends Reception for an enriching and enjoyable experience!