2019 Paint Around Gala & Auction Recap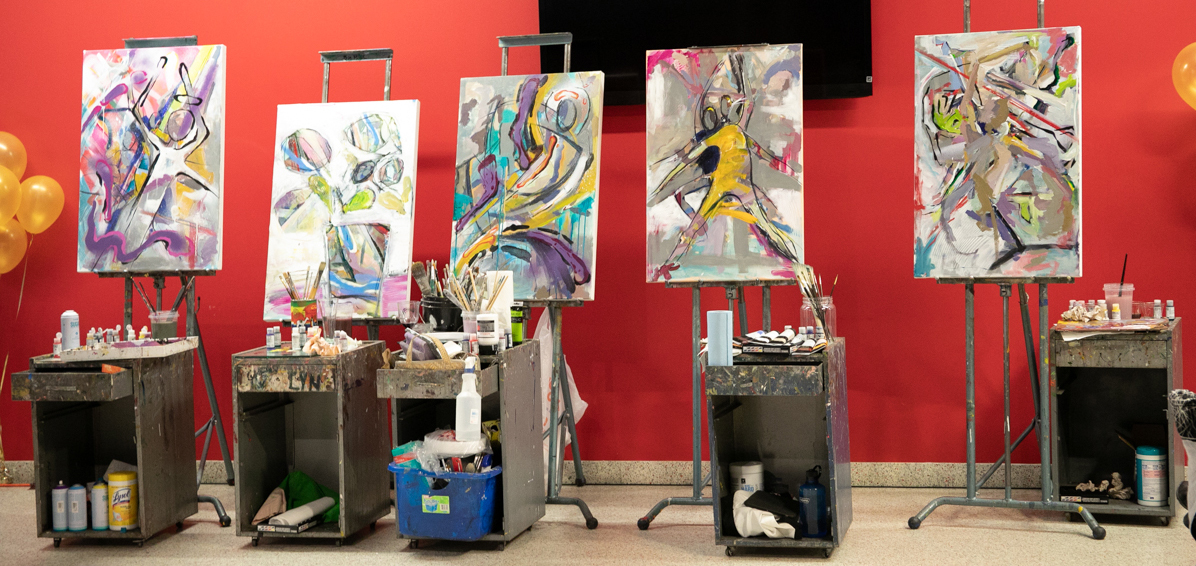 ---
On March 9, 2019, the Florida State University College of Fine Arts presented the 4th biennial Paint Around Gala & Auction, benefiting and highlighting Art, Art Education, and Dance and capitalizing on our amazing arts resources for a night of unique entertainment.
To kick off the festivities, Interim Dean Scott Shamp led event sponsors in a celebratory champagne toast. Guests were then lead into the WJB atrium to enjoy refreshments before the performance of Iron-horse Ocean, a three-part dance ensemble performed by School of Dance students and choreographed by Professor Tim Glenn. The concept-specific movement, music, and original projection of Glenn's piece suggests a futuristic and dreamlike, intercontinental journey traveling across an ocean on high-tech, floating tracks. The original version for proscenium stage was re-staged, deconstructed, and re-conceived by FSU dancers for Paint Around within the William Johnston Building atrium.
---
Using the performance and posed dancers as their inspiration, our celebrity artists began the first of six rounds of painting. Every 10 minutes, distinguished guests were invited to participate by ringing a bell to signal the artists to shift canvases and begin a new round of artistic expression. The result is pictured above, 5 unique pieces of art which incorporate elements from each of our celebrity artists; Joe Johnson, Cosby Martin Hayes, Kelly Pettit, Eluster Richardson and Michelle Wilcox.
Guests were able to enjoy live music from Daniel Smith and hear impactful stories from students who were able to elevate their artistry during their time at FSU through receiving departmental scholarships . To close out the evening, David Gilchrist served as our very own artwork auctioneer, awarding paintings to the highest bidder and securing funds to support student scholarships and travel grants for research and conferences.
The College of Fine Arts would like to say a special thank you to our Diamond sponsors, ABC Fine Wine & Spirits, Akerman LLP, Closthesline, Friends Through Dance Studios and Woodlane.
---