33rd Annual Art History Graduate Symposium
CALL for PAPERS
33rd Annual Art History Graduate Symposium
October 2–3, 2015
The Department of Art History at Florida State University invites graduate students to submit abstracts of papers for presentation at the 33rd Annual Art History Graduate Student Symposium in Tallahassee, Florida.
We welcome papers from any area of the history of art, architecture and cultural heritage studies. Paper sessions will take place on Friday afternoon, October 2, and Saturday, October 3, with each paper followed by critical discussion. Papers will then be considered for inclusion in Athanor, an internationally-distributed journal published by the FSU Museum of Fine Arts Press in the College of Fine Arts. We are pleased to announce that Claire Farago will be the guest keynote speaker during this event.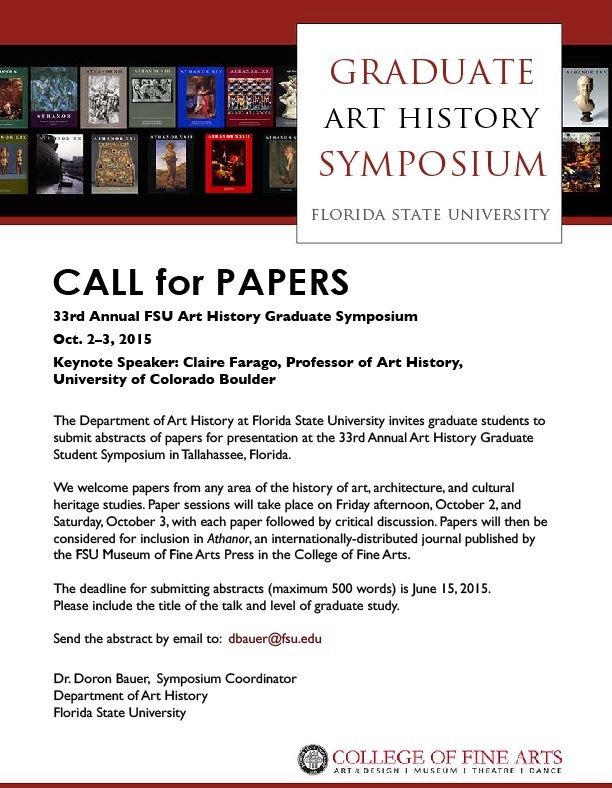 The deadline for submitting abstracts (maximum 500 words) is June 15, 2015.
Please include the title of the talk and level of graduate study.
General Informtaion
Friday & Saturday, October 2-3, 2015
Deadline for submission: June 15, 2015
Send the abstract by email to:
---
About Claire Farago
Claire Farago has received numerous fellowships and awards including a Getty Research Isntitute Collaborative Fellowship, a National Endowment for the Humanities Fellowship at the John Carter Brown Library,  and a Fulbright Senior Scholar Fellowship. She has held visiting professorships elsewhere, including Fulbright-York Scholar and Visiting Professor at the University of York, UK, (2011-12), the McGeorge Fellow Visiting Professor at the University of Melbourne, Australia (2008), Wiley Visiting Professor of Renaissance Art at the University of North Carolina at Chapel Hill (2006), and Art Council Chair Visiting Distinguished Professor at UCLA (1997).  Her current project is a cultural and intellectual history of Leonardo da Vinci¹s Trattato della Pittura (Paris, 1651) that will include a modern critical edition of the text which she is preparing with an international team of Leonardo specialists.
Text courtesy of http://cuart.colorado.edu/people/faculty/claire-farago/