Alumni Amy Lee Awarded "Newbie Art Teacher of the Year"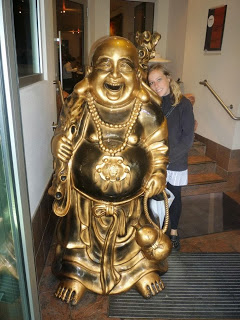 Amy Lee, a recent graduate of the Art Education program at Florida State University, was hired this year as an art teacher at Boyette Springs Elementary in Hillsborough County. Boyette Springs offers an exceptional scholastic environment for middle class and working class populations and maintains highly competitive educational standards with other schools in the area.
Amy has been enthusiastically welcomed in her new environment and attributes much of her success to her educational experience at Florida State. During her recent assignment to Boyette Springs, Amy has not only had several student's works entered and place in shows, but she has also received the Newbie Art Teacher of the Year award for Hillsborough county.
Amy Lee was nominated the "Newbie Art Teacher of the Year" award by her principal, Kelly McMillan, her coworker, Lee Ann Brodie, and art teacher at Bevis Elementary, Jill Maxwell. The three distinguish Amy as an extraordinary addition to the staff and a great resource to the students at Boyette Springs Elementary. During her time at Boyette Springs, Amy has promoted the art program school-wide, and has worked hard to instill a love for the arts in her students. To teach children about different cultures and the cultural influences of art, Amy has taken a multicultural approach to teaching art and encompassed an "Around the World" theme when forming lesson plans. Students are eager to learn about different cultures and the many ways in which culture influences art. Amy helps the students at Boyette Springs to make real world connections, and uses structures that engage students' thinking and allow for discussion.
Amy's love for art continues outside of the scholastic environment as well. Amy's personal work has been in 6 shows this year, two of which were held at the Morean art gallery in St. Petersburg, Fl. Amy has also shown works at Softwater Studio's "Femme Fantasy" Exhibit and the Art Institute's "What Those Who Teach Can Do" Exhibit.
In a recent correspondence with previous professor Dr. Tom Anderson Amy Lee spoke highly of her placement in Hillsborough County and urged Dr. Anderson to share her experiences with others. In a desire to advocate for Hillsborough county, Amy strongly encouraged future educators to consider positions in the area, and stated that there were several openings becoming available for the new school year.
Upcoming Events
Friday July 11th from 8pm-10pm in San Antonio, TX at the Nueva Street Gallery, The Department of Art Education will host 'Friends and Alumni Art Therapy Reception' coinciding with the American Art Therapy Association Conference.