"An Art Affair" Establishes the Susan and Mark Messersmith Art Scholarship (F07961)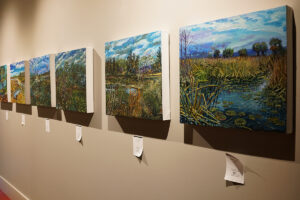 Last year, Susan and Mark Messersmith announced their interest in establishing an art scholarship for undergraduate students excelling in painting and sculpture at Florida State University.
Susan and Mark are committed to young artists and to Florida State University. Susan received her bachelors and master's degrees from FSU and serves as Graduate Admissions Coordinator for the Department of Art Education. Mark has been an FSU Professor of Art since 1985. Both are enthusiastic advocates of the arts and our students. They believe art can make meaningful impacts in the lives of people, positively influence our ideals, and make the natural and social world a better place.
More than 300 students are enrolled in Studio Art at FSU at any one time, yet the Department has only a handful of scholarships available to give in support and acknowledgement of student excellence. We dreamed of an award that could be given annually, a real legacy.

– Mark Messersmith
Mark and Susan reached out to the College of Fine Arts Development Department to learn more about legacy giving, at which time they determined that an endowment would accomplish their desire. The principal of an endowed fund is never spent. Instead, the principal is invested, and the earnings are used to fulfill the purpose(s) for which the fund was created – in this case, a scholarship.
Friends Su and Steve Ecenia, David and Hilda Gilchrist, Allys Palladino-Craig, and Carolyn Henne heard about the Messersmiths' goal and banded together to help them accomplish their dream.
On October 12, 2017, "An Art Affair" turned that dream into a reality.
An Art Affair
Generous supporters from Tallahassee and the surrounding area came together at the home of Steve and Su Ecenia with the hope of acquiring a Messersmith masterpiece. The Ecenia home was transformed into a gallery-style showroom. Guests were treated to signature drinks, wine donated by FSU Allies4Art, and catering by Food Glorious Food. Current and former FSU Art students spoke with guests about the art program, Mark's sculptural and painting technique, and their own creative endeavors.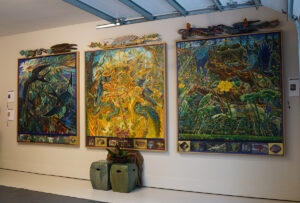 Five major works and a series of twenty smaller paintings were sold or auctioned before the evening was through, raising more $50,000.
Because of the generosity of Mark and Susan Messersmith, their friends and hosts Steve and Su Ecenia, and our guests, the Susan and Mark Messersmith Art Scholarship will be available to award in Spring 2018!
We couldn't be more pleased. The Tallahassee community has always been supportive of Mark's work, but this outpouring of love for our students and for his work was extraordinary. I am so glad that we will get to see a student awarded a scholarship this spring, and I can't wait for the fund to grow and grow over the years!

– Susan Messersmith
Make a Gift to the Susan & Mark Messersmith Art Scholarship today!
In addition to honoring Mark and Susan, your gift will ensure that the first awards made from the fund are as substantial as the excellence of our art student body.
To learn more about how your giving at any level can make a positive impact on the FSU College of Fine Arts, contact our Development Department:
Jessica Comas
Director of Development
jcomas@fsu.edu
(850) 645-0701