Art Department's Dan Torop: Frozen Period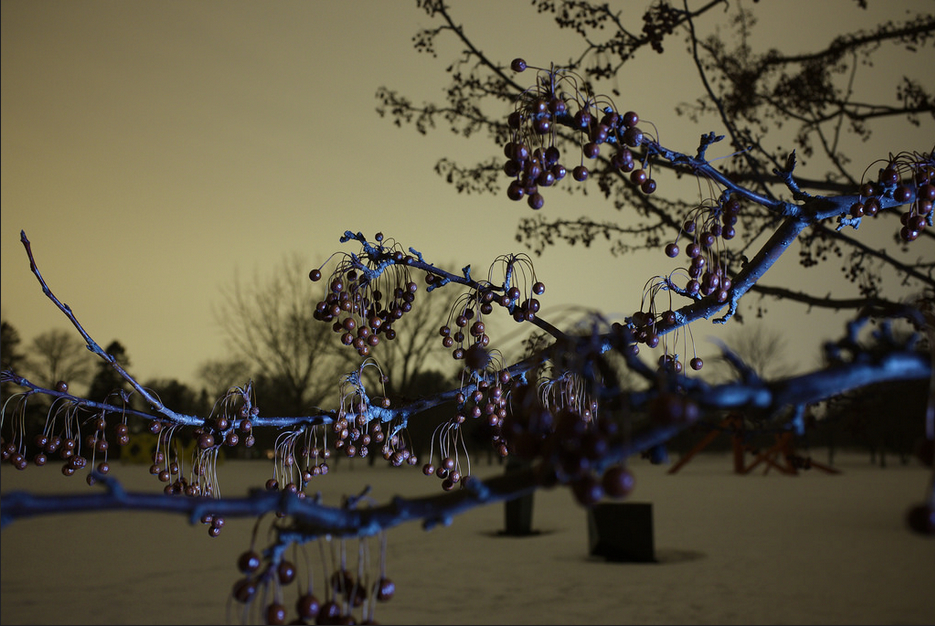 Dan Torop, FSU Assistant Professor of Art, will be having an exhibition June 14th- September 20th, 2015.
In a series of extended residencies at the Lynden Sculpture Garden beginning in the summer of 2013, Dan Torop made photographs on the grounds. There, Torop was able to interact with the seasons, animals, and objects across the site, sometimes intervening, but always observing. The end result of his work formed this exhibition as a response to a passage in a historical text–Meriwether Lewis's June 14, 1805 diary entry describing a day and night in the environs of the Great Falls of the Missouri River–with present day visual explorations. The exhibition is accompanied by a publication that sets Torop's images to Meriwether Lewis's 2600-word text, and includes an essay by Nicholas Frank that continues the dialogue with Lynden's landscape and history.
The exhibition's opening and publication date, June 14th, coincide with the 210th anniversary of Meriwether Lewis's narrative, and the event runs through September 20th, 2015. The exhibition will showcase works selected by Torop from the the Bradley Family Foundation collection that speak to Harry and Peg Bradley's interest in landscape and its inhabitants. Artists include Milton Avery, Joan Miro, John James Audubon, and Henri de Toulouse-Lautrec. On Wednesday, June 17th, 2015, from 6 to 7:30pm, Torop will also host a "bring your own picnic" event and perform a reading from the journals of Meriwether Lewis along with some westward-bound exploration on foot.
 About the Artist
Since the mid-1990's, Dan Torop has exhibited photographic and digital work addressing the subjective relationships between the land and its inhabitants. His exhibit "Alkali Desert" has been installed at the Center For Land Use Interpretation's Exhibit Hall One and subsequently Exhibit Hall Three (Wendover, Utah), TOPS Gallery (Memphis, TN) and The Green Gallery (Milwaukee, WI). His 2010 series of landscapes and portraits, "Skydiving", was exhibited at Derek Eller Gallery, New York and comprised a publication from A-Jump Books which the International Center for Photography featured in its 2013 Triennial photobooks installation. Since 1999 he has had six solo shows of his photographs in New York City. His digital "Ocean" has been installed at the American Museum of the Moving Image and the San Francisco Exploratorium.
Exhibition Information
The Opening Reception will take place Sunday, June 14th, 3-5pm. FREE to the public.
Westward: A Picnic with Dan Torop, will take place Wednesday, June 17th, 6-7:30pm.
Gallery hours, admission, and more information here: lyndensculpturegarden.org or call (414) 446-8794
Address: 2145 W. Brown Deer Rd. – Milwaukee, WI 53217
If you would like to find out more information about this exhibition, please click here.