Art Education's Dave Gussak and Marcia Rosal Edit Wiley Handbook of Art Therapy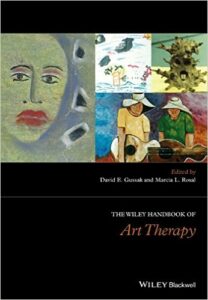 Department of Art Education Chair and Professor Dr. Dave Gussak, along with Dr. Marcia Rosal, edited the enormous Wiley Handbook of Art Therapy, which has just recently been released. The book is 84 chapters long and features writings by 90 distinguished authors. Although the hardcopy version will not be shipped for another month, the Kindle edition is available at a reduced price on Amazon.
Dr. Gussak said he is "proud, and not just a little relieved" that the book is ready for release. It has been called the most comprehensive art therapy book in the field and details the most current trends, approaches, and advances in art therapy.
Here is a summary of the book, taken from the back cover:
The practice of contemporary art therapy involves reflection on multiple philosophical, theoretical and practice models, and is often dependent on a range of specific settings or populations. Yet until now the diversity of the profession has not been brought together in a single text.   The Wiley Handbook of Art Therapy resolves the issue by providing unsurpassed breadth and depth of coverage of the subject, through a collection of theoretical and research approaches to practice. The handbook also explores various research models and professional issues, and provides a survey of global perspectives.

There are nine sections, each focusing on a crucial aspect of the field. These include a general overview, materials and directives, developmental continuum, assessments, research, special populations, interdisciplinary relationships, international art therapy, and special and contemporary issues. The result is an authoritative, state-of-the-art collection of the latest research in art therapy. Its multidisciplinary approach makes it a comprehensive and invaluable resource for all those in this field.