Art Professor Receives Fulbright Grant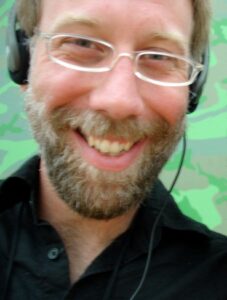 Four Florida State University professors and one administrator have received grants from the Fulbright U.S. Scholars Program to spend the academic year conducting research abroad. Among them was Department of Art professor Owen Mundy.
"The Fulbright program represents the best of our nation's scholarly achievements," said Sally McRorie, interim provost and executive vice president for Academic Affairs. "The vital research of these five Florida State scholars will be strengthened through engagement with scholars from other nations and then shared with our own students and colleagues in their fields in keeping with the mission of the Fulbright Scholars Program."
Mundy will examine the development of privacy laws and cultural expectations for online information security to compare policy between the United States and Austria at Alpen-Adria University Klagenfurt.
"Austria and other entities in the European Union enacted comprehensive legislation protecting citizens' rights to privacy for their information, but no such laws exist here," Mundy said. "Arguably, the U.S. is moving in the opposite direction, given the advanced and far-reaching methods for collecting and analysis of private data by the National Security Agency."
"I am interested in investigating startup culture, Internet activism and cultural attitudes toward personal data," he said.
In addition to his research, Mundy will teach two seminars, one on Internet culture and another on the history of technology used for surveillance. He also will continue working on his "I Know Where Your Cat Lives" project, which has grown to 5 million geo-tagged cats around the world.
"I'm looking forward to the various forms of academic and cultural engagement that the Fulbright facilitates, especially along the lines of my research into data privacy and big data," Mundy said.
Munn…[is] among nearly 600 U.S. faculty and administrators who will travel abroad during the 2015-2016 academic year through the Fulbright Scholar Program. Fulbright scholars are selected on the basis of academic or professional achievement. Sponsored by the U.S. Department of State's Bureau of Educational and Cultural Affairs, the Fulbright Scholar Program is an international educational exchange program designed to increase the mutual understanding between citizens of the United States and those of more than 155 participating countries.
FSU students and scholars interested in learning more about the Fulbright Scholar Program can visit the organization's website..
---
This won't be the first time Mundy has done work in the area of online privacy. He is currently part of an international traveling exhibition called Big Bang Data. Read more about that here. The original post on "I Know Where Your Cat Lives" can be found here.
Excerpt courtesy of the FSU website.