Art Therapy Workshop with Dr. Elkis-Abuhoff
The Department of Art Education's Art Therapy Program and its student organization the FSU Art Therapy Association hosted their annual spring art therapy workshop on February 22, 2014. The workshop was led by Dr. Deborah Elkis-Abuhoff, an associate professor at Hofstra University who holds by psychology and creative arts licenses in the state of New York. Dr. Elkis-Abuhoff's most recent work involves examining the use of clay manipulation with individuals diagnosed with Parkinson's disease and the creation of mandala drawings with breast cancer patients. Her research has been published in peer-reviewed journals and she has presented to both national and international audiences.
The February 22nd workshop focused on a multidisciplinary approach to art therapy treatment and research in medical settings. The workshop was applicable for those studying art therapy, music therapy, counseling, social work, education, medicine or psychology. In addition, the workshop was free. Registration began at 8:45 and the workshop ran from 9:30am-4pm with lunch provided. The workshop took place in room 3003 of the William Johnston Building.
About 50 people were in attendance on Saturday afternoon, all from a variety of academic backgrounds. Dr. Elkis-Abuhoff involved the participants in a couple different art directives, one of which was to create an "IV Buddy." This beaded buddy concept was created to accompany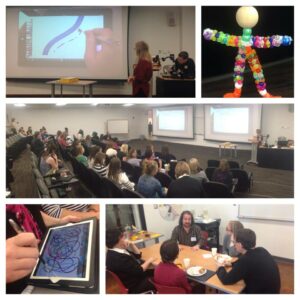 cancer patients on their IV pole as they received chemotherapy. The buddy was a creative way to provide comfort and support for the patient. Dr. Elkis-Abuhoff also showed the participants several IPad Apps that she uses when doing art therapy with patients in the chemotherapy rooms. Because of the sterile environment, she utilizes the tablet for creative use; through painting and sculpting applications on the IPad, patients can receive a technological form of art therapy.
Tying into her research with Parkinson's patients and clay manipulation, Dr. Elkis-Abuhoff instructed a clay-based art therapy directive, prompting participants to create a sculpture of an important relationship in their life. After several people shared their pieces and their response about the directive, Dr. Elkis-Abuhoff closed her workshop. Overall, it was an exciting experience with a lot of great information presented. The topics covered were ones of multidisciplinary interest and we're so thrilled that we had the chance to interact with her on such a wonderful basis.