"BFA Babes" Exhibition on April 25th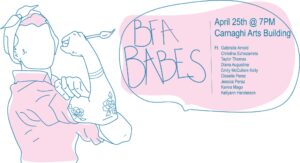 On April 25 from 7p.m. – 9p.m., women of the BFA class will be presenting art at the Carnaghi Arts Building.
Featuring Work By:
Gabrielle Arnold
Christina Echezarreta
Taylor Thomas
Diana Augustine
Emily McCullers Kelly
Gisselle Perez
Jessica Perez
Karina Mago
Kellyann Henderson
Be sure to come out out and see work done by some of the talented BFA ladies in the Department of Art!
This event is free and open to the public. For more information please visit the BFA Babes Facebook event page.