Colloquium on Law, Cultural Patrimony and the International Art Trade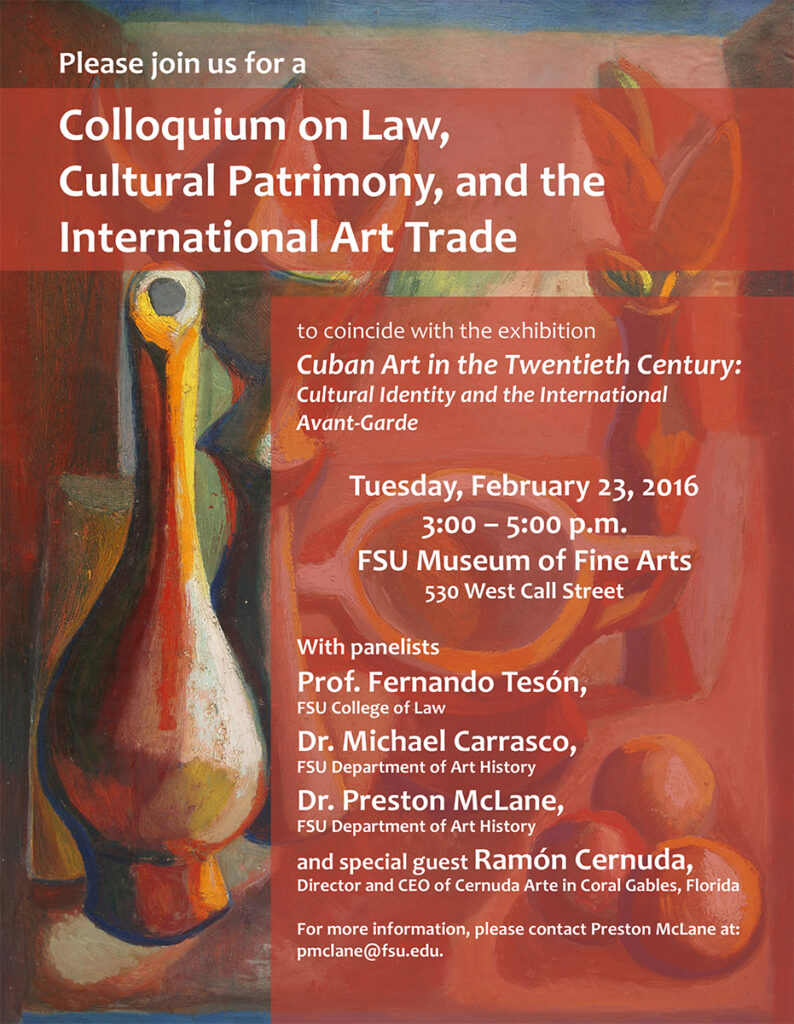 Please join the Florida State University Department of Art History Tuesday, February 23, 2016 from 3:00 to 5:00 for the Colloquium on Law, Cultural Patrimony, and the International Art Trade at the FSU Museum of Fine Arts (530 West Call Street).  This Colloquium coincides with the exhibition Cuban Art in the 20th Century: Cultural Identity and the International Avant-Garde, which runs through March 27, 2016. 
Dr. Michael Carrasco and Dr. Preston McLane will examine the global context of Cuban art through a colloquium panel addressing the intersections of law, cultural patrimony, the international art trade, and collecting, with a focus on US-Cuban relations in the 20th century. Prof. Fernando Tesón of the FSU College of Law, and leading expert on Cuban art Ramón Cernuda, Director and CEO of Cernuda Arte in Coral Gables, Florida will also be in attendance.
M

useum

H

ours

:

9-4 pm M-F; Sat. & Sun. 1-4 pm.
The Museum will be closed March 5th and 12th.
For tours call 645-4681.
All exhibitions & receptions are free & open to the public.
P

arking

:

Metered parking on the lower level of the adjacent Call Street Garage M-F 8-4:30 pm (access from Macomb Street). After 4:30, and on weekends, all legal spaces are available to visitors.