Cuban Art Opening Reception Attracts More Than 1,200 Visitors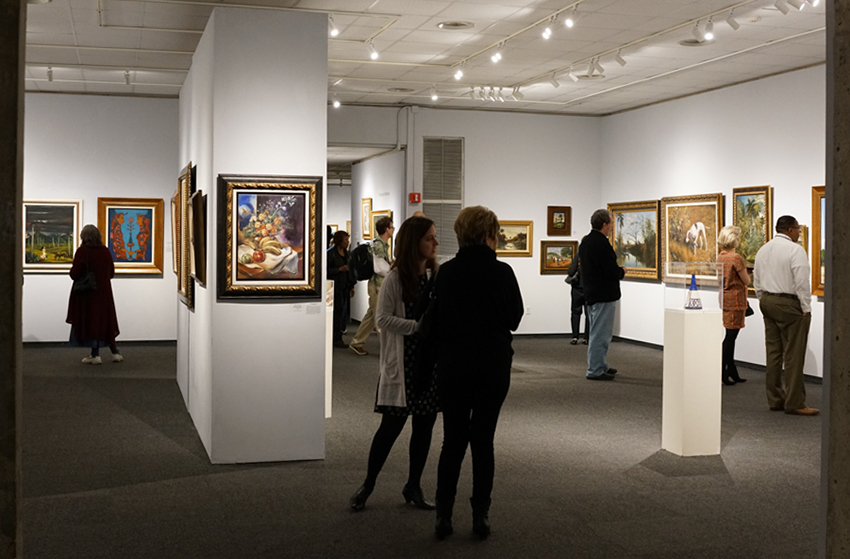 February 12 – March 27, 2016
More than 1,200 visitors flocked to Florida State University's Museum of Fine Arts Friday, Feb. 12, to view the largest display of Cuban art shown in the United States in more than 70 years.
The exhibition, "Cuban Art in the 20th Century: Cultural Identity and the International Avant Garde," features works of artists past and present, celebrating Cuban landscape, history, mythos and a rich and varied aesthetic that is as individual as each artist. More than 100 works from private collections in Florida have been organized and assembled through the generosity of Director Ramón Cernuda and his staff at Cernuda Arte for MoFA's exhibition.
Segundo J. Fernandez — a Tallahassee attorney, art collector and doctoral candidate in art history — is the guest curator of the exhibit. More than two years ago Fernandez proposed the exhibition and he, art historians Juan Martinez and Paul Niell, and the museum began work on Cuban Art in the 20th Century.
The exhibit was nothing short of a success.
The exhibition runs through March 27, 2016. Museum hours are Monday – Thursday  9am – 4pm and Friday 9am –  8pm; Saturday and Sunday 1pm – 5 pm both days, but closed March 5 and 12.  The museum is also open before the 7 pm lecture of Dr. Martinez on Feb. 22 and the hour before before curtain in the Fallon Theatre. 
Please dial 644-6836 for an update or visit online:  www.MoFA.fsu.edu   Museum of Fine Arts, 530 W. Call St., Tallahassee, FL 32306. 
For additional information on the exhibition, please visit the original blog post.
Photography courtesy of Allys Palladino-Craig and Kathryn-Kay Johnson.