IA+D Visiting Designer: Cynthia Leibrock
The Department of Interior Architecture + Design had Cynthia Leibrock, an author, international lecturer, and interior designer with more than 30 years experience, visit FSU October 26 and 27 and lecture on Universal Design. Her mission is to improve health, longevity, and life quality through Universal Design. Universal Design is simply good design that provides maximum opportunity and choice for all users, even if they are challenged by differences in their physical or mental abilities. Her work has been featured on the front page of the New York Times, and her universally designed kitchen, completed with Julia Child, is housed in the Smithsonian. She is the author of three books including Beautiful Barrier Free, Beautiful Universal Design, and Design Details for Health. Cynthia teaches Universal Design classes at the Harvard University School of Architecture and travels extensively sharing her work. In addition to her FSU lectures to Studio II, Studio IV, and the Design Issues Graduate Seminar, she offered a lecture for students and the public. She also served as the juror for the Studio II senior housing project.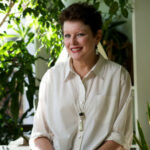 Cynthia lives in Livermore, Colorado on Green Mountain Ranch, which is designed using Universal Design principles. She offers a summer fellowship to educators who wish to study at the ranch. Professor Lisa Waxman received a fellowship in 2015 and spent a week at the ranch. The second half of the fellowship agreement is the lecture at FSU by Cynthia. For more about the ranch and universal design, please visit her website, The Secrets to Aging Beautifully.