MANCC Welcomes Returning Choreographic Fellow David Neumann
August 14 – 21, 2016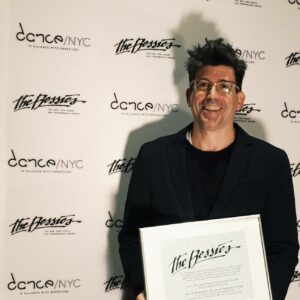 The Maggie Allesee National Center for Choreography (MANCC) proudly presents returning Choreographic Fellow, David Neumann. This is the first in a series of residencies for his latest project, which is at a very early stage of development. Inspired by his participation as an artisit-in-residence at the SETI Institute (Search for Extraterrestrial Intelligence), his inquiry will stem from several emerging questions that consider the unfathomable scale of time and space, and the terror and wonder it inquires. Neumann will begin his investigation with movement explorations accompanied by a daily writing practice.
Neumann has developed three previous projects at MANCC, including his 2007 work FEDFORWARD, which explored the rules of sports and premiered at Dance Theater Workshop. In 2011, Neumann developed Restless Eye, a work that explored the realm between thought and behavior, and between describing life and experiencing it, and premiered at New York Live Arts in 2012. In his most recent MANCC residency (January 2015) Neumann finalized, I Understand Everything Better,  just prior to the premiere at American Dance Institute in March 2015. The multidisciplinary dance-based performance explores the impulse to report on calamity, the consciousness of traumatic change, and one's proximity to dying. The production garnered two Bessie Awards, one for Outstanding Production and one for collaborator Tei Blow's Outstanding Sound Design.
This residency is supported by a multi-year, multi-residency initiative from The Andrew W. Mellon Foundation. Neumann, joined by collaborators, will return for two more residencies as part of the Mellon-funded Choreographic Fellow program, which will allow them to address the needs of the developing work at multiple stages. This funding addresses one of the MANCC's key programmatic priorities, to support vanguard artists' work at all stages of development. By enabling artists to more fully research ideas in and out of the studio (concept, movement vocabulary, and production design), MANCC residencies help more fully realize artistic visions.
About David Neumann:
David Neumann has been a featured dancer in the works of Susan Marshall, Jane Comfort, Sally Silvers, Irene Hultman, Cathy Weiss, Big Dance Theater, and the late club legend Willi Ninja. He was a member of Doug Varone and Dancers, and an eight-year original member and collaborator with Doug Elkins Company, with whom he toured nationally and internationally. He continues to perform and choreograph for theater, opera and film working with such directors as: Hal Hartley, Laurie Anderson, Robert Woodruff, Lee Breuer, Peter Sellars, JoAnn Akalaitis, Chris Bayes, Mark Wing-Davey, Daniel Sullivan, Les Waters, and Molly Smith. Past projects included: creature movement on I Am Legend with Will Smith, performing in Beckett Shorts with Mikhail Baryshnikov at New York Theater Workshop, and choreographing The Bacchae at the Public Theater.
As artistic director of advanced beginner group, Neumann's work has been presented in New York at PS 122, Dance Theater Workshop, New York Live Arts, Central Park SummerStage (where he collaborated with John Giorno), Celebrate Brooklyn, Symphony Space (where he collaborated with Laurie Anderson), and The Whitney. His work has also been presented at the Walker Art Center and MASS MoCA.
[vimeo 123236761 w=850 h=447]

The Maggie Allesee National Center for Choreography (MANCC), at the FSU School of Dance, is a choreographic research and development center whose mission is to raise the value of the creative process in dance.