Department of Art History: Grand Sendoff for Kathy Braun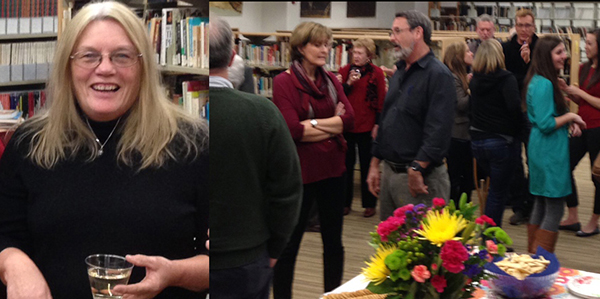 Last month we celebrated Kathy Braun's 18 years of outstanding service to the Art History department with a festive retirement party in her honor.  Kathy originally joined the department as a Work Study student in 1996.  In 1999 she moved into the position of Assistant Curator of the Media Center, where she initiated or collaborated on most of the projects and procedures that still make our instructional resources so outstanding today.
In 2009, departmental changes created the need for a staff position dedicated to academic programming and student advising. Kathy quickly adapted her responsibilities to fill this need, and she became the department's Academic Program Coordinator. She helped reorganize the graduate application and advising process, establishing procedures for recruiting applicants and ushering students through the graduate program in a timely and nurturing fashion. The department saw an enormous change in the way our graduate students were mentored. Applications increased substantially, and every student who applied to our program was greeted with professionalism and thorough information throughout the process.
Art History students throughout the years have commented that the graduate application process at FSU was unlike anything they experienced in any other university. New graduate students arrived every fall feeling confident and well-informed, thanks to Kathy's regular contact, her efficient management, her coordination of visits with faculty and current students, and her pleasant, positive, and helpful attitude. Students at all levels graduate from the program grateful to Kathy for her remarkable efficiency, her generosity, and her great support thoughout their time here.
Although we will all miss Kathy, we are excited for her new life and opportunities to travel, especially to visit her three granddaughters in Maine and England.