Department of Art Student Galleries at Carnaghi Arts Building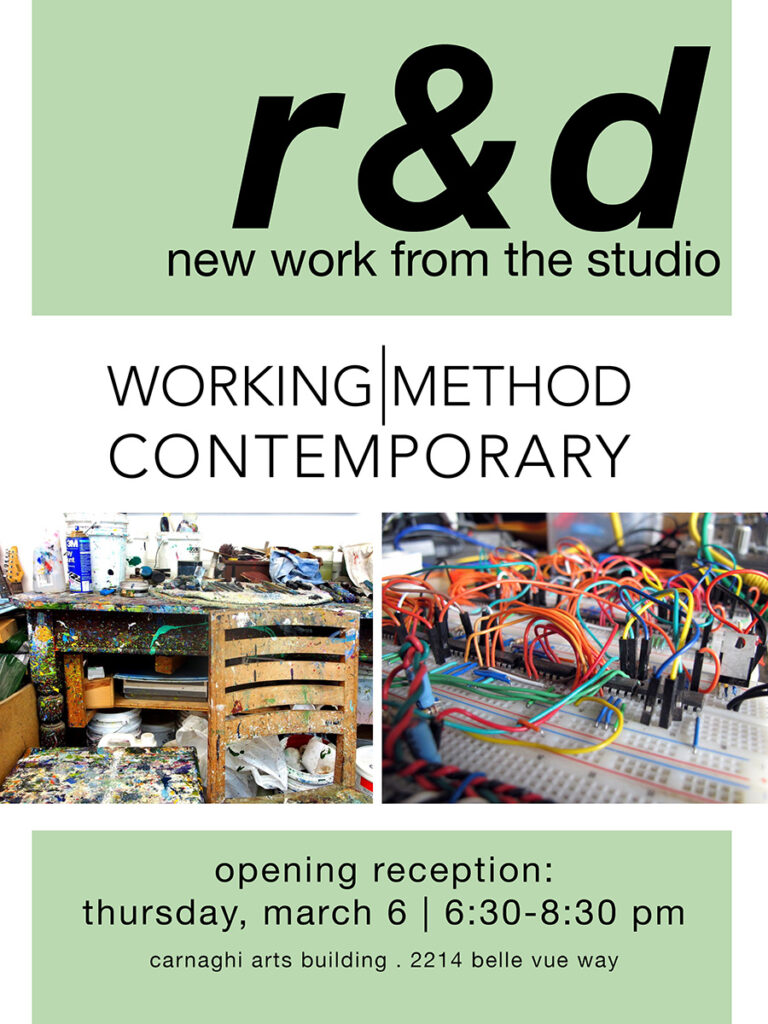 Working Method Contemporary is the dedicated gallery space for Masters of Fine Art Students at Florida State University. The program is composed of approximately thirty graduate students pursuing a terminal degree in Studio Art. The gallery provides students a space for exhibition, experimentation, and documentation of works created while attending Florida State.
The student directors operate as an alternative, non-traditional space dedicated to showing recent works, as well as collaborations, by students currently enrolled in the program. These exhibitions include painting, sculpture, photography, ceramics, video works, installations, and performance art. Working Method Contemporary Gallery also offers a platform for the students to participate in the art world at large.
The Working Method Contemporary Gallery recently moved to its new location at the Carnaghi Arts Building. This move was marked with the exhibition opening for r&d: New Work From the Studio, featuring 14 Master of Fine Arts candidates in Studio Art with work across all medias. This exhibition presented these artists' brand new works, some still being in progress both aesthetically and conceptually.
The Phyllis Straus Gallery, also at Carnaghi Arts Building, held its dedication in February. The Bachelor's of Fine Arts students in the Department of Art will primarily use this gallery. An exhibition featured various works of the students was held in March. This gallery was named in memory of Phyllis Straus, a beloved Academic Advisor with the Department of Art, who passed away in April 2013. The dedication featured works by Phyllis as well as contributed pieces from those who knew her.
The Department of Art is excited for these two galleries and looking forward to see what the students create for them!
Upcoming Events
Graduating Artsits Exhibition
Opening: Friday 4/11/14
6-8PM at MOFA
Department of Art Awards Exhibition
Opening: Friday 4/11/14
4-6PM at CAB