Home
»
News

»
Department of Interior Architecture and Design Students Win Kravet Residential Design Competition
Department of Interior Architecture and Design Students Win Kravet Residential Design Competition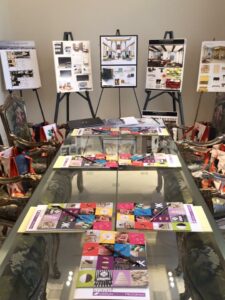 Department of Interior Architecture and Design students Abby Kern and Cameron Robb will spend spring break in New York City, a trip earned for their winning entries in the Kravet Residential Design Competition. Kravet partnered with the department's Studio IV class and 47 students participated in the completion to design a 6,000 foot high end residence in New York City.
FSU faculty selected ten finalists and their boards and projects books were shipped to New York for judging in December. In addition to Abby Kern and Cameron Robb, finalists included Ginny Duke, Katie Galvin, Mary Johnson, Alexis Moore, Katie Oliver, Brooke Peoples, Katie Piercy, and Rebecca Thompson.
New York City-based judges included Tory Mellot, senior editor of Traditional Home Magazine, Michael Tavano, designer, Young Huh, designer, Nazira Hadal, Director of Special Events Kips Bay Boys and Girls Club, Julia Noran of The Editor at Large, Katie Timmerman, FSU alum and designer at ZGF Architects, and Ellen Kravet, Principal at Kravet, Inc.
The studio class was taught by Lisa Waxman and Grant Preisser. The department congratulates these outstanding students!