DesignIntelligence Named Jill Pable in Education Excellence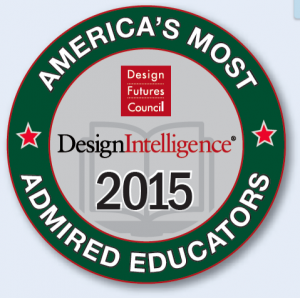 Each year, DesignIntelligence honors excellence in education and education administration by naming 30 exemplary professionals in these fields. The DesignIntelligence report is produced by the Design Futures Council, an interdisciplinary network of design, product and construction leaders exploring global trends, challenges and opportunities to advance innovation and shape the future of the industry and the environment.
The 2015 class of education role models was selected by DesignIntelligence staff with extensive input from thousands of design professionals, academic department heads and students. This list includes educators and administrators from the disciplines of architecture, industrial design, interior design and landscape architecture.
Jill Pable, Department of Interior Architecture + Design Associate Professor, is one of only several interior design educators on the 2015 list. She is cited for her involvement, dedication and commitment to her students as well as her research and focus on social good. Jill Pable teaches in several areas, such as studio, lighting and interior design teaching preparation as well as others. She is the owner of many recent publications and awards, from the 2013 Faculty Award for Distinguished Research to the National "Member Choice Award" for academic presentation.
Read more about Jill Pable.