Contemporary Pursuits in the Art of Edouard Duval-Carrié
Florida State University Museum of Fine Arts
Exhibition Dates: February 16–April 1, 2018
Opening Reception: Friday, February 16, 6–8PM
Symposium: Saturday, February 17, 10AM–4PM
2004 William Johnston Building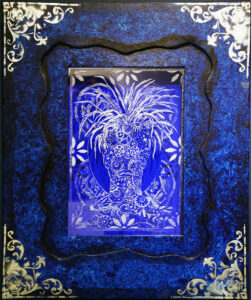 This spring the FSU Museum of Fine Arts presents Decolonizing Refinement: Contemporary Pursuits in the Art of Edouard Duval-Carrié, developed by the curatorial team of Paul B. Niell, Michael D. Carrasco, and Lesley A. Wolff, in collaboration with Haitian-born painter and sculptor Edouard Duval-Carrié. In the works to be displayed, Duval-Carrié engages themes associated with the history of the Tallahassee area and North Florida region, including plantation agriculture, race, and slavery. His vibrant paintings, sculptures, and installations will be accompanied by plantation artifacts loaned from State of Florida collections, including a portion of a nineteenth-century sugar mill, and objects from The Grove Museum and Goodwood Plantation Museum in Tallahassee. Following the opening reception on February 16, the exhibition will be on view through April 1, 2018.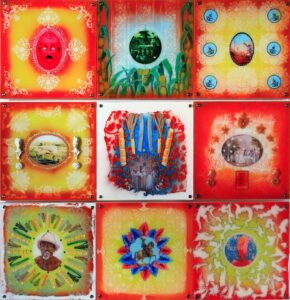 On Saturday, February 17, the Winthrop King Institute for Contemporary French and Francophone Studies and the Department of Art History will host an accompanying symposium with topics in African Diaspora and Caribbean Studies, in 2004 William Johnston Building. Speakers include Edward Sullivan (NYU), Erica James (Yale), Jerry Philogene (Dickinson College), Anthony Bogues (Brown University), Vincent Joos (FSU), Martin Munro (FSU), and Edouard Duval-Carrié.
Duval-Carrié's work navigates the historically rich and culturally complex traditions that comprise a uniquely Caribbean perspective. The Haitian-born artist fled his homeland as a teenager, during the dictatorship of François Duvalier. He studied at the Ecole Nationale Superieure des Beaux Arts in Paris and the University of Loyola Montreal in Quebec, and established his workshop in Miami, Florida. Duval-Carrié's recent works attend to themes of water, travel, and Francophone culture. For this artist, water becomes both a symbolic passage and a barrier—the means by which enslaved Africans were brought to the Caribbean and modern-day Haitians migrate to the United States. Both circumstances have been driven by capitalism, a force that occupies Duval-Carrié's work materially and iconographically.
Benefactors and Lenders to the Exhibition: The Nell Bryant Kibler Memorial Endowment; Dr. Kenneth Reckford and Charlotte Orth Reckford; Goodwood Museum & Gardens, Tallahassee; Special Collections and Archives, Florida State University Libraries; Lyle O. Reitzel Gallery, New York – Santo Domingo; Museum of Contemporary Art, North Miami; Thomas County Historical Society, Georgia; The Florida Division of Historical Resources.