Visiting Artist Lecture: Kalup Linzy
06oct7:00 pmVisiting Artist Lecture: Kalup Linzy7:00 pm
Time

October 6, 2016 7:00pm
Location

Fine Arts Building (FAB) 249

530 W Call St., Tallahassee, FL
Event Details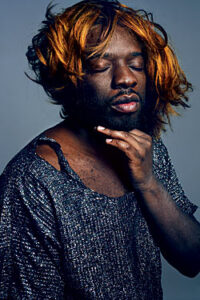 Please join the Department of Art in welcoming visiting artist, Kalup Linzy, an American video and performance artist who lives and works in Brooklyn, New York.
About Kalup Linzy
(courtesy of Wikipedia)
In 2003, he moved to New York to pursue a career in the arts. In 2005, his participation in a group show at The Studio Museum in Harlem and a project at Taxter and Spengemann Gallery in Chelsea, led to a review in "The New York Times" by Holland Cotter that opened with the statement "A star is born…". Linzy went on to receive numerous awards, recognition, and opportunities. He has been honored with awards and grants include The Louis Comfort Tiffany Foundation grant, the John Simon Guggenheim Memorial Foundation Fellowship, The Creative Capital Foundation grant, an Art Matters grant, The Jerome Foundation grant, The Harpo Foundation grant, and The Headlands Alumni Award residency. His work is included in many private and public collections. Among them are The Museum of Modern Art, The Studio Museum in Harlem, The Whitney Museum of American Art, The Metropolitan Museum of Art, The Birmingham Museum of Art, The Rubell Family Collection and the collection of Martin and Rebecca Eisenberg. He has lectured at universities and colleges across the country including New York University and Harvard University.
He has worked and collaborated with many well known artists, celebrities, and fashion designers. Among them are James Franco, Chloe Sevigny, Natasha Lyonne,Liya Kebede, Leo Fitzpatrick, James Ransone, Dan Colen, Nate Lowman, Diane von Furstenberg, Proenza Schouler, Michael Stipe, Tunde Adebimpe and the band TV on the Radio. His work has been featured at numerous film festivals that include Sundance Film Festival, Tribeca Film Festival, London Lesbian and Gay Film Festival, and Outfest. He has also been featured in numerous magazines including New York Magazine, V Magazine, W Magazine, Out Magazine, Interview Magazine, which featured an interview with his friend Chan Marshall, Artillery Magazine, in which he was the cover story, and in May 2014 he was featured in a six-page spread inHarper's Bazaar, Hong Kong.
In 2010, he was invited by and featured on General Hospital alongside James Franco playing Kalup Ishmael. He performed Route 66 (song). In the summer of 2011, Linzy produced the video and performed in A Heavenly Act, an opera by Italian composer Luciano Chessa commissioned by SFMOMA with a libretto by Gertrude Stein. A Heavenly Act premiered on August 19, 2011, at the Yerba Buena Center for the Arts in San Francisco, in a staged production by the Ensemble Parallèle. In 2012, while teaching a performance studies course at New York University, Linzy appeared with butoh artist Edoheart in an art reality show.