Visiting Scholar Lecture & Seminar: Eric Palazzo
07feb6:00 pmVisiting Scholar Lecture & Seminar: Eric Palazzo"Saint Dominic and the Five Senses"6:00 pm
Time

February 7, 2017 6:00pm
Location

William Johnston Building (WJB) G40

143 Honors Way, Tallahassee, FL 32306-1231
Event Details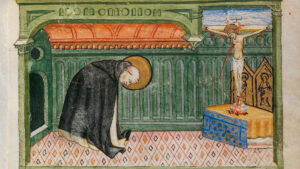 The Department of Art History presents two public lectures and a special seminar by visiting scholars of Western and Islamic Medieval art history on February 7 and 9, 2017.
On Tuesday, 2/7, Eric Palazzo of the University of Poitiers will present "Saint Dominic and the Five Senses" at 6 pm in G40 WJB. Palazzo is professor of medieval art history at the University of Poitiers, senior member of the Institut universitaire de France (Paris), Director of the Centre d'études supérieures de civilisation médiévale, Poitiers (2000-2007), Getty scholar at the Getty Research Institute, Los Angeles (2006-2007) and is a specialist in the history of the liturgy in the middle ages and its relationship with art history.
Palazzo will also conduct a special seminar on February 7 from 2–5:30 pm in 2038 WJB, ""Art and Movement in the Middle Ages." This seminar is recommended for graduate and undergraduate students who are particularly interested in Medieval art, and space is limited. Please contact Prof. Doron Bauer to reserve a seat: dbauer@fsu.edu.
On Thursday, 2/9, Glaire Anderson will present "Scientists as 'Makers?' Exploring Art & Science in Islamic Spain," also at 6 pm in G40 WJB. Anderson is Associate Professor of Islamic Art History at the University of North Carolina at Chapel Hill. Anderson specializes in Islamic art, architecture, and civilization during the age of the caliphs, particularly Umayyad Córdoba and the western Mediterranean. She has served on the Historians of Islamic Art Association Executive Board and her work has been recognized by the Society of Architectural Historians, the American Council of Learned Societies, and the College Art Association.