Exhibiting Archaeology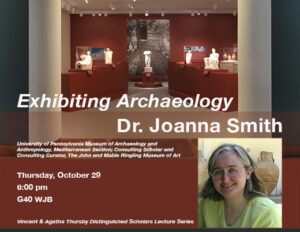 The Department of Art History's Vincent and Agatha Thursby Distinguished Scholars Lecture Series hosted a lecture titled. Exhibiting Archaeology. This year's guest speaker was Dr. Joanna Smith of the Mediterranean Section of the University of Pennsylvania Museum of Archaeology and Anthropology.
Dr. Smith is also the visiting consulting scholar and curator at the John and Mable Ringling Museum of Art. Her lecture explored approaches to the display of such objects that have contributed to ideas for a new installation, showcasing sculptures and other discoveries by Luigi Palma di Cesnola on Cyprus in the late 19th century. She also spoke of the upcoming Ringling exhibition, and how the fragmentary state of many forms of art found in archaeological excavations as well as the importance of past viewing contexts pose challenges for museum exhibitions.
Learn more about the event here.