FAR Faculty in Residence participates in the Florida Art Prize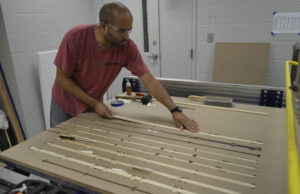 Rob Duarte, FSU Assistant Professor in the Department of Art and the Facility for Arts Research (FAR) Faculty in Residence, has been selected from hundreds of Florida artists to participate in the Florida Art Prize exhibition at the Orlando Museum of Art.
The Orlando Museum of Art Florida Prize in Contemporary Art is an annual invitational exhibition that focuses on the production of contemporary art in the State, while also providing new scholarship with an accompanying exhibition catalog. Each year the Museum invites ten artists for the exhibition based on criteria that includes artistic excellence, engagement with significant ideas and achievement that is demonstrated by a history of exhibitions and awards.
Additionally, one artist will receive the Florida Prize, a significant monetary award. The purpose of the Florida Prize in Contemporary Art is to bring a new level of recognition to the State's most progressive artists and to encourage their ongoing contribution to the State's cultural vitality.
Rob has two artworks in the exhibition. One Dies, Get Another is an installation of twelve electromechanical sculptures – each constructed from Southern Yellow Pine, plaster, forged steel, pine tar, and a microcontroller-driven motor. Twelve forged steel replicas of turpentining tools ("hacks") rap against twelve cast plaster replicas of terracotta turpentine collection pots ("Herty pots"). A staccato rhythm develops as each sculpture moves at its own pace, pauses, and returns to its never-ending task.
The ideas driving the piece are a result of Duarte's three years of research into the history of the turpentine industry in North Florida, and the intertwined politics of convict leasing, wartime Naval stores, and post-slavery debt peonage. Lost #2 is a continuation of previous works connected with the United States' ongoing covert wars via unmanned aerial vehicles ("drones"). Abstracted, obfuscated, and largely illegible video imagery i s projected by a tripod-mounted projector, reflected by a mirror, and finally mapped onto a carved polystyrene map of a small area of Pakistan. Three thousand silk pins mark the locations on the map where individuals have died in drone strikes, while the names of the dead appear and disappear on a small card near the projector.
Each of the two works was produced, in large part, at the Facility for Arts Research. For Lost #2, Rob created software to transform LIDAR satellite data to a surface that could be carved using the facility's Shopbot CNC router. To produce One Dies, Get Another, Rob used the Shopbot again in a novel way – to cut the hundreds of small-scale woodworking joints required by the piece. As part of the project, Rob was assisted by Philadelphia artist Matt Jeffs in the long and difficult process of assembling and testing the sculptures at FAR, before traveling to Orlando to install the large-scale installation. Both works can be seen in the Florida Prize in Contemporary Art exhibition a the Orlando Museum of Art until September 6, 2015.