This summer at the Facility for Arts Research, visiting artist Mark Nathan Stafford (MFA in Studio Art, FSU, 2011) and FAR's Windham Graves (MMAP Lead) continue to collaborate on their project, My Twitter has Become so Powerful.
Of the project, Stafford writes:

"My Twitter has Become so Powerful" is a new work by Mark Nathan Stafford combining relief sculpture and GIF animation. Sculpted in Zbrush and produced under the direction of Windham Graves at FAR's Form-Lab, the 36″ x 36″ sculpture was CNC routed in negative from 2.25″ MDF to create a mold from which the concrete positive was pulled. This relief serves as the backdrop to a projected GIF animation of words and images spilling from prominent twitterer Donald Trump's mouth, suggestively linking the implied permanence of sculpture with assumed fleetingness of tweets and memes.
About The Artist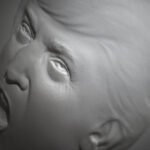 Mark Nathan Stafford is a sculptor and digital artist whose work has appeared in numerous national and international exhibitions, most recently, the 2013 NCECA Biennial Exhibition at the Houston Center for Contemporary Craft. His critical writing has appeared in 
Art Papers
 and 
Ceramics: Art and Perception
. He currently teaches at Valdosta State University in Valdosta, GA.