Facility for Arts Research Provides Innovative Project Design to Neonatal Research
Faculty and students from the Facility for Arts Research have collaborated with scientists from the Maitre Lab at the Perinatal Research Institute at Nationwide Children's Hospital which is partnered with the Department of Pediatrics at The Ohio State University College of Medicine to design a device — a haptic air tester — that will safely and accurately test the neurological response time for children ages 12 to 36 months with cerebral palsy.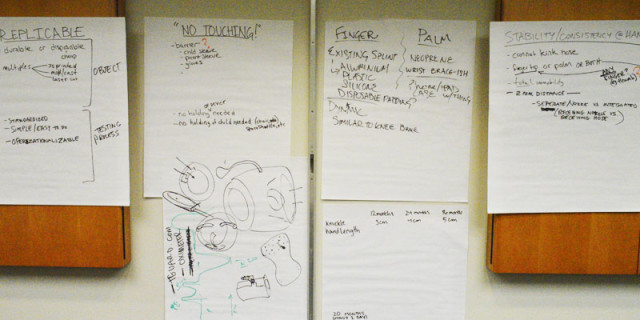 Under the guidance of FSU Art Professor Robert Duarte, three students (Noah Brock, Anne Haines, and Holly Weinrauch) have had the opportunity to work with children in this age range to create plaster casts of their hands for reference while making device mockups. The final device will administer a puff of air to a child's palm and must at all-time be within two millimeters of the child's skin. The vision for this project came from a problem in the experimental design that the scientists from the neonatal clinic were experiencing. In order to better administer their tests on the children, the scientist needed to have a prototype device created. The three FSU students were tasked with the challenge of collaboratively solving this design/build problem. They created a 3D printed, handheld, polyester form to fit an infant's hand that can be utilized during the scientist's testing.
"We're constantly looking for projects that show what art students can offer outside of what is commonly understood as art," said Robert Duarte, assistant professor in the Department of Art. "While this project is in the realm of biomedical engineering, there is something different that artists can offer to the process of making a product or, in this case, designing a medical device."
Professor Duarte specifically chose these three students to work on the project because of their prior experience with technology and he thought they would be fit candidates for the job. Out of this experience, the students got to work through a paid internship that provided opportunities for them to further their development in 3D printing applications while using various materials to obtain a suitable project design.
Some of the challenges that the students faced while designing the project were:
The device had to be sustainable and easily cleaned.
The device had to replicable and utilized in different situations during the test.
The students had to be able to work collaboratively with each other in order to reach a prototype design.
The students had to work rigorously Monday through Friday in order to accomplish results in a time efficient manner.
"I think the most important thing I learned was figuring out how to adapt to a real-world situation," Brock said. "A lot of times we are designing projects and we don't see the outcome."
Through their hard work and determination, the team was able to accomplish a prototype suitable for the scientist's experiment focusing on children with cerebral palsy. After trials of the created hand device, the Maitre Lab at the Perinatal Research Institute will be able to successfully administer their tests to the infants in order to check and monitor their response times.
"We hope that this project and many others will serve to illustrate what artists can contribute to research investigations across a wide range of disciplines," said Carolyn Henne, director of FAR and associate dean at the College of Fine Arts. "Oftentimes, FAR is approached towards the end of a research project with the idea that artists will figure out the aesthetics — such as a housing for a robot or an illustration. The haptic air tester serves as an excellent example of artists as productive collaborators throughout the research process."
The Florida State University Facility for Arts Research was created with the mission of supporting rigorous investigation across artistic media and disciplines, with a focus on technological innovation. FAR seeks to develop and share arts research-related resources with Florida State University and the larger Tallahassee community. FAR provides a variety of classroom experiences, residencies, exhibitions, internships/volunteer opportunities and workshops.
Located on Sessions Road, FAR is a 22,500 square foot arts research facility nestled on five acres in North West Tallahassee. FAR incorporates both Small Craft Advisory Press (SCAP), which blends traditional and digital printmaking processes and promotes collaborations between artists and writers to create artist's books, FormLab, which gives artists, designers and scientist's access to a variety of tools they can use to create unique 3D objects and explore and visualize form in a tactile, multi-sensory way, and REBOOT, a laboratory for anti-design and counter-engineering.
The various facilities of FAR include:
FormLab offers space and specialized equipment for spatial audio, electronics, digital fabrication and rapid prototyping. Within the FormLab a 3D printing lab, a laser lab, and a materials processing lab offer available resources for qualified participants to utilize these resources for their projects.
Small Craft Advisory Press offers studio space and equipment serving both traditional and post-digital printmaking processes, as well as facilities for hand papermaking, bookbinding, and production work. Within SCAP there is a letterpress shop, book bindery, papermaking area, and printmaking studio.
REBOOT is a laboratory for antidesign and counterengineering. The lab creates provocative electronic objects, technological interventions, and tactical media products that challenge the status quo of design and engineering. The lab's overriding mission is to use the languages of art, design, and engineering to reveal and critique the politics embedded in all technology.
Written by Ausar Amadi & Amy Farnum Patronis