FSU Art Class Traveled to Disney World to Learn from the Imagineers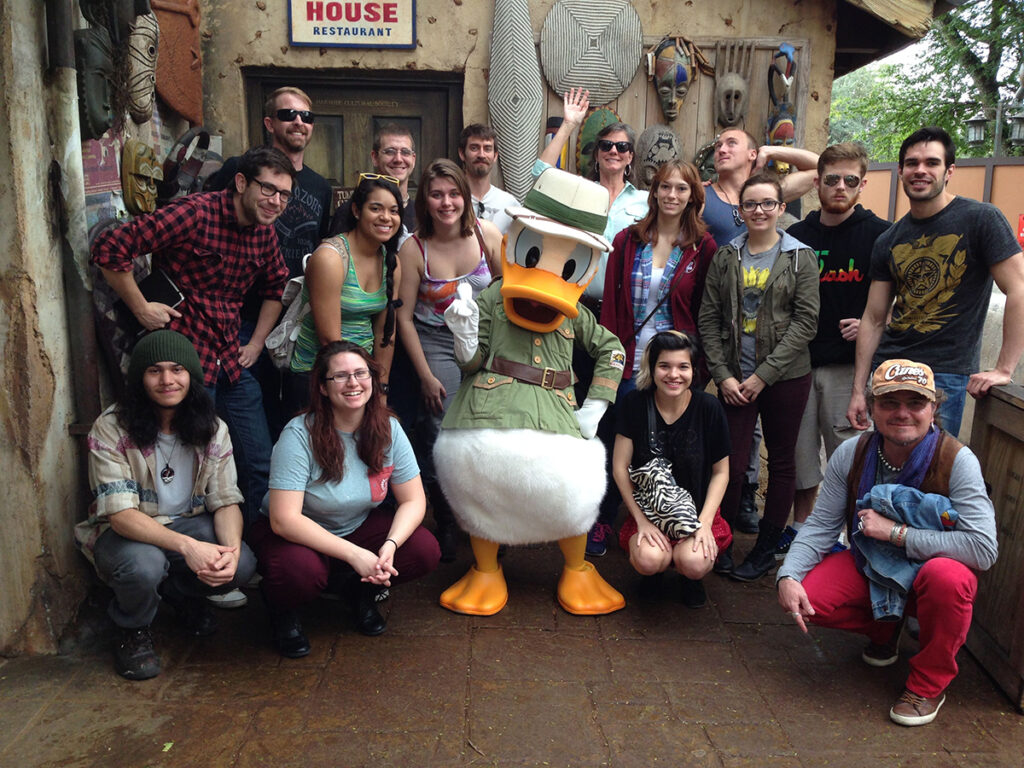 This semester the Department of Art is excited to introduce a new course to students: Imagineering Production Techniques, Sculpting Environments. The class investigates aspects of "character plaster" and the potential applications to student's work and "real world Disney" projects. Character plaster is produces the hard finishes in the Walt Disney Parks that mimic other materials. This includes rockwork, themed paving, wood and facades.
In January, the class travelled to Walt Disney World where they were exposed to character plaster techniques and met with artists from Walt Disney Imagineering. These experts lead the class in workshops and took the students exploring in Animal Kingdom to see in-process and completed examples of large scale character plaster projects. Irene, a BA student in Studio Art, expressed that "if I could go back, I would. Everyone was eager to make us feel welcomed and thoroughly answered all of our questions with smiles on their faces. This was my ultimate once-in-a-lifetime experience". Craig, an MFA student in the course, further explains, "I had never been to Disney world or really had an expectation for 'character plasterization' but WDI quickly changed my opinion. Beyond the simulation of cartoon depictions and fantasy, Disney has extensively developed their parks by utilizing both technology and artisans, creating vivid and comparable real world environments that successfully suspend disbelief".
Throughout the semester, students will work toward building full-scale pieces and guest artists from Disney Imagineering will critique students' works. Emma, a BA in Theatre, describes, "Going to Disney and meeting the Imagineers was a great experience. It's a really amazing that we've been given the opportunity to learn from them and I'm looking forward the rest of the semester." Working closely with the Disney Imagineers allows the students to gain a real-world perspective of character plaster. Mike, a BFA student in Studio Art, reflected that it "was insightful and inspiring to walk these parks with some of their creative designers. Seeing these creators and the pride that they have for their works, from current projects to ones completed many years ago, is something I believe every artist should have. It is great to be able to learn from an artist such Zsolt in a hands on environment, I am thankful for this chance". Shawn, a BA in Studio Art, summariz es the experience as "Working with the Disney Imagineer's has provided a fantastic opportunity to network with and learn the best practices of a global industry leader. I believe that this kind of real world exposure in a classroom environment is very beneficial for the success of students in future endeavors. I am very appreciative to Disney and the FSU College of Visual Arts and Theater for taking the time and funds to invest in students by providing genuine learning experiences".