FSU Dance Welcomes Guest Faculty pearl ubungen
The School of Dance began the new semester by welcoming visiting faculty member pearl ubungen to the department for the month of January. ubungen is a widely-acclaimed interdisciplinary artist who draws inspiration from her work in cultural and social activism, historical research, somatic practices, and improvisation with movers and musicians. During her time at FSU she is working with students through a variety of diverse avenues to share her philosophies and experiences as an artist.
A native of San Francisco, ubungen began her work as a choreographer in 1989 with a focus on community centered work exploring ideas of place, site, and memory. Her ancestry as a "Pinay", meaning a Filipina American, and her background in history have also informed her choreography. Her former company, Pearl Ubungen Dancers and Musicians, created a series of pieces based on the Philippine American War and relations between the two countries. Through these works she explores the overlap between history, colonialism, and current societal issues. ubungen's current work is directly informed by her activism in areas including police brutality, the housing crisis, and the struggle of the working class.
This semester, ubungen is co-teaching a new course in the School of Dance, Resistance and Liberation: An Exploration through the Body, which looks at how to combine the roles of the artist and activist, and find awareness and a sense of self through contemplative and somatic practices. After studying historical movements of resistance and liberation, including the Black Panthers and the landmark eviction of tenants at the International Hotel in 1977, students use embodied movement practices and improvisation to find their own truths about how to engage and move forward.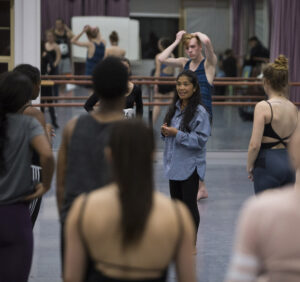 A practitioner of the Feldenkrais Method and meditation in the Shambhala Buddhist tradition, ubungen is using these practices to inform her work with students both in the classroom and in dance technique classes. She feels the young students with whom she is working are facing a great sense of the unknown and fear of the future. By incorporating these practices into her teaching, she hopes to give students new tools to find balance, confidence and inner strength in their lives.
During her time at FSU, ubungen will also be setting a new work inspired by her mentor experimental choreographer and performer Ed Mock (1938-1986). ubungen originally danced in the work, titled Tight Like That, which highlights Mock's use of improvisation and love of music. ubungen is working with her dancers to find precision and a sense of playfulness in the musicality through improvisation and contemplation of existing footage of Ed Mock in performance.
ubungen is also working with a group of upper level undergraduate and graduate students to create a pre-show work for the School of Dance's annual Days of Dance concert in April. The work, which will be performed on Landis Green, stems from ubungen's studies in Tibetan Buddhism. The piece is centered around Padma, one of the five Buddha families, which is represented by the season of Spring, the color red, the direction west, and the element of fire. ubungen is working collaboratively with the nine dancers to explore what red means to them, and create embodied movement to explore perception and creativity from the iconography of the five Buddha families.
ubungen is grateful for the chance to work with the dancers at FSU and the opportunity to impart some of the philosophical views she gained from her mentors. She hopes the students are able to learn from her direct experience as a community based artist in San Francisco.