FSU Department of Art makes a strong showing at Digitech!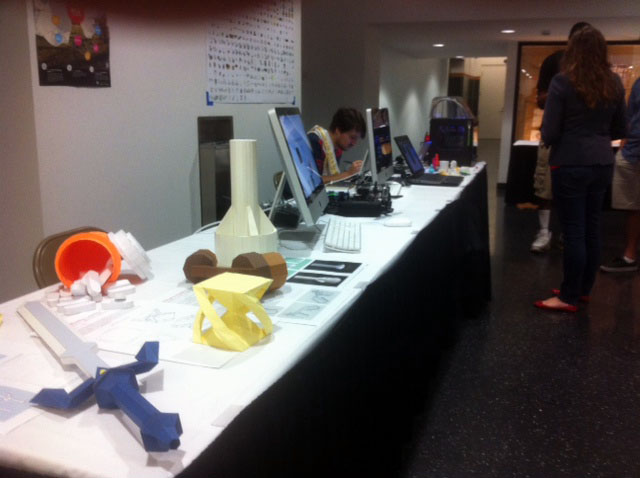 On display for the Department of Art were works from Digital Foundations, Digital Forms, Digital Media and Digital Animation courses.
Also on display was the ArtDrone with sample footage and one of our two MakerBot 3D printers with samples printed by Digital Foundation students. Being the only 3D Printer at Digitech made our table a must-see for all visitors who were amazed at how students were employing it in both their class and personal work.
BFA student, Mick Womack was kind enough to entertain visitors by demonstrating his Wacom Cintiq tablet and how it paired well with his drawing skills.
Rounding out our strong presence were live 3D scans and MakerBot prints of visitors using the FabLabs' Xbox Kinect and Scanect software. The "on-demand" scan and printing were huge crowd pleasers!
Digital Foundations student Mellissa Pilolli's stop motion animation titled "Boy with a coin" won a first place award in the Expression category – an award that goes to the exhibit that best demonstrates the application of digital technologies skill towards a creative work.
Her video can be seen here at this link: https://www.youtube.com/watch?v=Y-3iVXxe1_s
The Ceramics department was also represented and had an intriguing display of works created using their ceramic 3D Printer.
All-in-all, it was a successful showing which received extreme interest from all visitors and many conversations surrounding how we in the Art Department are moving forward in the embracing of Digital Technology and it's place in the creative process.
Thank you to all who contributed and a special thanks to B.A. Daniel Haastrup who assisted me in manning our tables and fielding an unending line of interested, intrigued and questioning visitors.
2015 should be an even better year for the Art Department at Digitech and I look forward to showing everyone what we're doing on and off campus with the latest technologies!