FSU School of Dance Candidates to Present 3 Voices
Florida State University's School of Dance presents Master of Fine Arts candidates Trent Montgomery, Francisco Graciano, and Holly Stone in their joint concert 3 Voices as partial fulfillment of the MFA degree in Dance.
The performances, which are free and open to the public, will take place at 7:30 pm Friday, Feb. 28 & Saturday, Feb. 29 at 7:30pm in the Nancy Smith Fichter Dance Theatre in Montgomery Hall. Doors open 30 minutes before the start time.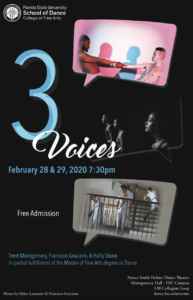 3 Voices opens with masc4masc, Montgomery's choreographic investigation into traditional gender roles in classical dance through the use of men on pointe and the manipulation of stereotypically gendered movement. Montgomery redefines codified dance practices by challenging gender traditions and finds his own way of existing within these strict forms to a mixture of club and classical music.
Graciano, former Principal Dancer of the Paul Taylor Dance Company, reckons with the inevitable transformation of body, psychology, and place in his new work "Amor Fati." Drawing from books, "The Hero with a Thousand Faces" by Joseph Campell and "The Heroine's Journey" by Maureen Murdock Graciano presents the culmination of his research while at the FSU School of Dance in 3 Voices through his choreographic work and a short documentary film. The cast includes seven student dancers, as well as live accompaniment by Spanish guitarist and FSU Doctoral candidate Cody Switzer.
The concert ends with Strange Loops by former engineer and neuroscientist Holly Stone. Inspired by Douglas Hofstader's book "Gödel, Escher, Bach: An Eternal Golden Braid," Stone uses movement set to music by J.S. Bach and Arvo Pärt to analyze how consciousness emerges from the sum of its parts. Strange Loops slowly grows with repetitive movement LEGO pieces and theatrical projections to create cognition from constituent parts.