FSU students create business in retrofitted school bus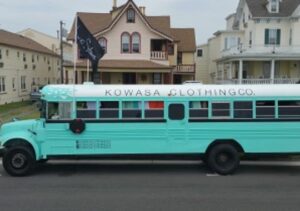 The journey kicked off Friday aboard a teal-painted school bus, rumbling north, bound for Virginia Beach. That was just their first stop.
Zander Nichols and Conner Pearson drove all night. With every mile the two Florida State students soaked in sights along the East Coast. They also stopped in Baltimore, and Bethany Beach, Maryland. By Wednesday, they were in Cape May, New Jersey.
Locals curious about the bright colored bus soon heard about the dream that started Kowasa Clothing Co, a start-up business playing off the popularity of food trucks and pop-up stores.
"I figured why not combine the two," said Nichols, a fine arts major and creator of the company's logos and images, like the artsy mix of a heart tangled in octopus legs.
"It's clothing for everyone," he added. "I think that stress is harmful to your health and everyone should kick back, relax and take a breather."
Background
Like many young entrepreneurs, they sought financing online. They raised more than $8,000 on Kickstarter, a global crowdfunding platform. They then bought a school bus on eBay for $2,500. They drove it from Mississippi and later gutted the interior.
Entrance into the bus leads directly to the "storefront," where Kowasa's carefree beachwear — cropped shirts, tank tops, tees and hats — are stretched over the one wood-paneled wall.
Sleeping quarters — bunk beds — are in the back. The company's "Never Stress" mantra is painted above the windshield on the bus-turned-mobile-flagship store.
For eating, they're hauling an electric cooler and a portable electric grill. Their diet resembles that of the typical college student — mostly cereal and sandwiches.
The epic road trip is a dream for Pearson, a business management major who's handling the company's marketing and financing.
"I've always had a vision to travel the world. But to be able to travel our country while doing this for our business is amazing," Pearson said. "It truly is."
Nichols, 22, and Pearson, 21, went old school by using the road trip approach, since it's more like door-to-door sales instead of flooding the internet with social media posts. While they're on Twitter, Facebook and Instagram, the two millennials aren't relying on social media to boost their message.
"I wanted to reach out to people the organic way and be face to face and meet people," said Nichols, the bearded visual creator. "We want to put down our phones, close our computers and come to you."
Their destinations aren't mapped out. They rely on locals in each city to recommend places to explore. Pearson said they're keeping a daily journal of the stories they're hearing along the way. Friend and photographer Joel Eriksson documents the visuals.
So far, Kowasa has sold about 20 items on the road. Items are also sold on the company's web site.
Erick Crosier, an academic adviser at FSU in the Exploratory Center, said he's good friends with Nichols. He witnessed long hours they poured into retrofitting the bus, which was spray painted near a Monticello farm.
He said Nichols and Pearson are dreaming big; both want the company to be among the most prominent clothing enterprises in the country. Someday.
"They now own the bus and this is just the beginning," Crosier said. "This isn't the end."