FSU/Asolo Conservatory Opens the 2017-2018 Season with OEDIPUS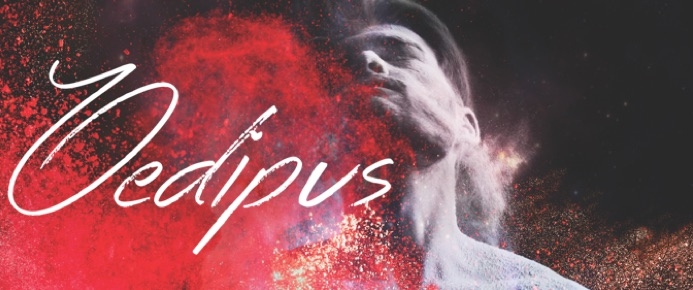 (SARASOTA, September 27, 2017) — The FSU/Asolo Conservatory for Actor Training proudly kicks off its 2017-18 season with Sophocles' OEDIPUS. One of the most widely known plays in the modern world, OEDIPUS is directed by FSU/Asolo Conservatory Director Greg Leaming. Featuring the entire second-year Conservatory class, the production previewed on Tuesday, October 31 with a special "Pay What You Can Performance," officially opened Wednesday, November 1, and runs through Sunday, November 19 in the Jane B. Cook Theatre, located in the FSU Center for the Performing Arts, 5555 N. Tamiami Trail, Sarasota.
Long considered one of the greatest plays ever written, OEDIPUS – part political thriller, part psychological whodunit – is the story of one very flawed hero discovering the awful burden and responsibility of power. Oedipus, the king of Thebes, promises to find the cause of a plague that ransacks the city, only to discover just how complicit he has been in destroying his own community.
Sophocles' OEDIPUS remains an important play because it takes the stories of traditional myths and adjusts them to meet the contemporary world. The Oedipus story continues to be powerful even thousands of years after the advent of Sophocles' play.
OEDIPUS is one of only seven of Sophocles' 123 plays to survive in entirety.
"OEDIPUS is a mountain of a play, a story that has continued to demonstrate its own power for centuries. It's a play about passion: passion for power, for country, for home, for self," said Director Greg Leaming. "And it's a play that continues to strike deep into the heart of everyone given the chance to experience it. Oedipus is a violent, angry, passionate man in a seat of ultimate power – but his belief in his country and his own responsibilities drags him deep into one of the most terrifying stories ever written. It is a huge challenge for the second-year company of actors, and one which they are eminently capable of taking on."
The 2017-18 season continues with THE MOTHERF***ER WITH THE HAT by Stephen Adly Guirgis from January 2-21 and THE REHEARSAL by Jean Anouilh from February 20-March 11 in the Cook Theatre. The closing show, MUCH ADO ABOUT NOTHING, runs from April 17-May 6 and is a collaboration with Marie Selby Gardens. It will be performed outdoors at Selby Gardens.
CAST
(in order of appearance)
Oedipus……………………………………………………………………………Andrew Hardaway
Priest/Chorus Leader…………………………………………………………….DeAnna Wright
Kreon………………………………………………………………………………Erik Meixelsperger
Teiresias……………………………………………………………………………..Lawrence James
Jocasta……………………………………………………………………………………….Olivia Osol
Messenger 1…………………………………………………………………………………..Katie Sah
Messenger 2………………………………………………………………………… Scott Shomaker
Shepherd……………………………………………………………………………………Dylan Crow
Chorus: John Bennett
Dylan Crow
Sara Linares
Matt Kresch
Katie Sah
Scott Shomaker
Jenny Vallancourt
ABOUT THE DIRECTOR
GREG LEAMING (Director, FSU/Asolo Conservatory for Actor Training; Associate Artistic Director, Asolo Rep) For Asolo Rep, he has directed his own translation/adaptation of Anything to Declare? as well as Ah, Wilderness!, Hearts, The Imaginary Invalid, The Play's the Thing, Boeing Boeing, The Game's Afoot, Other Desert Cities, Good People and the world premiere of Jason Wells' Men of Tortuga. For the Conservatory, he has directed The Real Inspector Hound/The Actor's Nightmare, The Water Engine, The School for Lies, Twelfth Night, Cloud Nine, Two Gentleman of Verona, Pericles, Blue Window, Murder by Poe and The Mystery Plays. He was the Director of Artistic Programming for Long Wharf Theatre in New Haven, CT, as well as Acting Artistic Director for the 2001-2002 season. There he directed, among others, the world premieres of Going Native, Abstract Expression, The Third Army, Syncopation and An Infinite Ache (also for Stamford Theatre Center, Cincinnati Playhouse in the Park and Merrimack Repertory Theatre). Other credits include numerous productions around the country, including the world premieres of Losing Father's Body, Church of the Sole Survivor, Jeffrey Hatcher's The Turn of the Screw, as well as many other productions at Portland Stage Company, Contemporary American Theatre Festival, Philadelphia Drama Guild, Clarence Brown Theatre Company, Stage West, Shakespeare Sedona, Southwest Shakespeare, and Banyan Theater Company. His adaptation/translation of Pierre Feydeau's Le Dindon titled The Patsy premiered at the Resident Ensemble Players in Delaware in 2015.
ABOUT THE CONSERVATORY
The FSU/Asolo Conservatory for Actor Training is a celebrated three-year graduate program culminating in a master of fine arts degree. For more than 40 years, tens of thousands of actors from across the continent have auditioned for admission. A maximum of 12 students are admitted each year. In their second year, the students perform in the Cook Theatre, a 161-seat space designed to create an intimate experience for the audience and actors. Third-year students are seen on the Mertz Stage working with the Asolo Rep's professional actors in exciting and significant roles.
For more information, visit http://www.asolorep.org/conservatory/welcome.
TICKETS
Subscriptions for the complete 2017-18 FSU/Asolo Conservatory season can be purchased now by calling 941.351.8000 or 800.361.8388, visiting www.asolorep.org, or visiting the Asolo Repertory Theatre Box Office, located at 5555 North Tamiami Trail in the FSU Center for the Performing Arts. Box office hours are Monday-Friday 10am-5pm. Single tickets for OEDIPUS and the entire 2017-18 season are now available for donors (at the Angel level or higher) and subscribers and will go on sale to the public online on Friday, September 29 at 12:01am and at the box office and by phone on Monday, October 2 at 10:00am.