Interior Architecture and Design Graduate Students Win Furniture Design Competition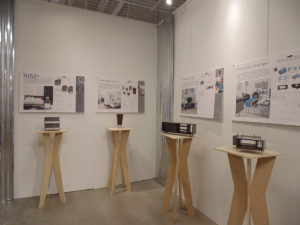 During the month of October, the Department of Interior Architecture + Design had eight graduate students' furniture designs displayed at the High Point Market in North Carolina. The designs were part of a yearlong partnership with furniture manufacturer Groovystuff. At the beginning of the semester, Groovystuff sent graduate students reclaimed materials from which their furniture designs are inspired. Once designs are complete, models are displayed at High Point Market and entered into a competition. This is the third year graduate students have participated in this program, and the department is proud to announce that Anna Osborne and Christine Titus received first and second place overall this year. The models are now on display in the William Johnston "Gallery Under the Stairs". Congratulations to these successful students!
Founded in 1998 by Chris Bruning, Groovystuff utilizes reclaimed materials in the design, production, and distribution of rustic, contemporary, and eco-friendly commercial and residential furniture, lighting, and home decor at upper-medium to high-end price points.