JAfL is Closing Submissions for Spring 2016 Issue!
The deadline for the JAfL special issue: Creative Placemaking (Spring 2016), is almost here!
The deadline is November 30, 2015.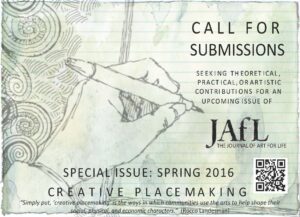 We encourage submissions that exemplify (theoretically, practically or artistically) the concept of creative placemaking and an awareness of art's important role in our lives.  Articles that address how creative placemaking may push the boundaries of theory and practice in art museum, education, administrative and therapeutic environments are encouraged.  Visuals and alternative forms of representation are always welcomed.
Further guidelines for submission can be found here and a flyer for the 2016 special issue submissions can be found here.
The Journal of Art for Life (JAfL) is an international, refereed journal focused on art education, museum education, art therapy, and arts administration in authentic, real-world contexts toward the goal of social progress through the arts.  The journal is based on the instrumentalist premise that art has the power and potential to reflect and enhance the conditions of human experience. Through scholarly articles, the journal is an instrument for communicating the avenues by which the various forms of art intertwine and impact society and social justice.
We hope you will help spread the word – and we look forward to receiving some of your work!