Join The College Leadership Council Today!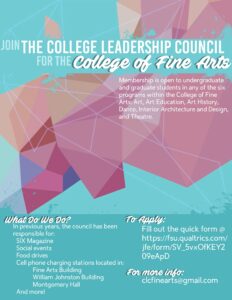 The College Leadership Council (CLC) invites all undergraduate and graduate students within The College of Fine Arts to join the organization this upcoming school year. Membership is open to students across all six programs in the college. The CLC is responsible for social events, food drives, the annual publication of SIX Magazine which showcases the finest work from students across the college, and all-around improvement of the college from student perspectives. New members will be joining a close knit group of successful students who are seeking to improve the academic and social experiences of their peers.
To apply to become a member of the CLC for the 2016-2017 school year, please fill out this FSU Qualtrics application. New members will be notified during Summer 2016.
Please contact clcfinearts@gmail.com with any questions or concerns.