MANCC Welcomes Visiting Artist Keith Hennessy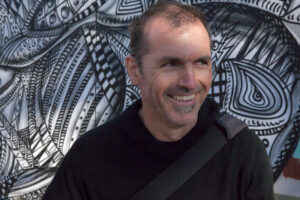 MANCC is pleased to host internationally recognized performer, choreographer, teacher and organizer Keith Hennessy and a temporary collective of artist/performer/musicians and dramaturg into residence April 12 – 23, 2016 to further the development of Blank Map. Blank Map is a dance-with-live-music-and-art experiment that is inspired by anti-assimilationist tendencies in African diasporic culture: punk, futurism, feminism, queer, pessimism and improvisation. Hennessy and this collective of artist-performer-musicians will share their process with the community through discussion and a work-in-progress showing:
Work-in-Progress Showing: Blank Map
April 21, 2016 5:30pm
Montgomery Hall Black Box Studio
Space is limited for the work-in-progress showing; reservations are required please email info@mancc.org to reserve a seat. 
While at MANCC, Hennessy and the artistic team will engage in hard core sound-movement-image-action collage, making choreographies from material generated during a February/March collaborative research period. Working from both political rhetoric and intuitive impulses, the group will explore artistic practices of making and editing, scratching and breaking, flowing and speaking.
Hennessy comes to MANCC with a widely respected record of over 20 years of interdisciplinary research that engages improvisation, ritual and public action as tools for interrogating political realities in the U.S. and around the globe. Recent work includes future friend/ships, of which the New York Times says: "…Keith Hennessy and Jassem Hindi, proved both passionate and tender. In future friend/ships,' the two stage a defiant, poetic/political work, inspired by events in Syria, that gradually transforms chaos into hope."
Born in Sudbury, Canada, Hennessy conducts national and international projects from his home base in San Francisco where he directs Circo Zero, a prolific West Coast dance-performance company he instigated in 2001. Circo Zero participates in local and global struggles for justice; functioning as a public laboratory for investigations of spiritual, artistic, sexual and political concerns.
To learn more about Keith Hennessy visit his MANCC artist profile and Circo Zero.

The Maggie Allesee National Center for Choreography (MANCC), at the FSU School of Dance, is a choreographic research and development center whose mission is to raise the value of the creative process in dance.