Letterpress Workshop with Eileen Wallace Hosted by Small Craft Advisory Press
Saturday & Sunday | February 25th-26th, 2017 | 10am-4pm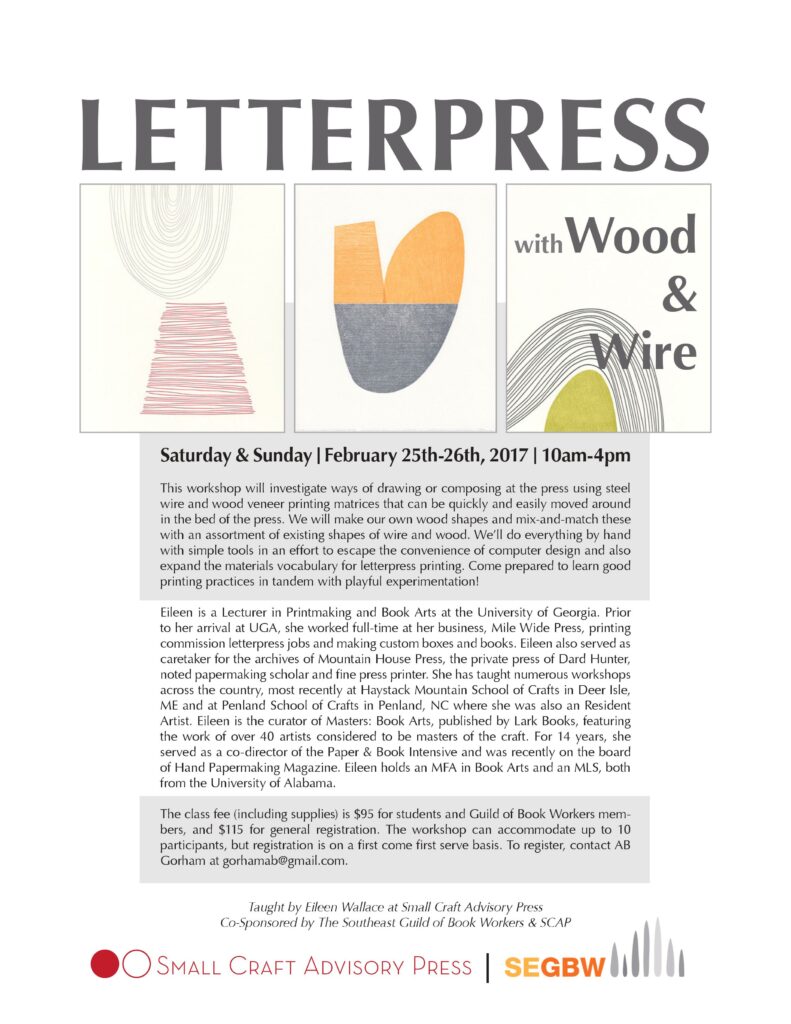 Hosted by Small Craft Advisory Press, this Southeast Guild of Book Workers workshop will investigate ways of drawing or composing at the press using steel wire and wood veneer printing matrices that can be quickly and easily moved around in the bed of the press. We will make our own wood shapes and mix-and-match these with an assortment of existing shapes of wire and wood. We'll do everything by hand with simple tools in an effort to escape the convenience of computer design and also expand the materials vocabulary for letterpress printing. Come prepared to learn good printing practices in tandem with playful experimentation!
The class fee (including supplies) is $95 for students and Guild of Book Workers members, and $115 for general registration. The workshop can accommodate up to 10 participants, but registration is on a first come first serve basis. To register, contact AB Gorham at gorhamab@gmail.com.
Eileen Wallace is a Lecturer in Printmaking and Book Arts at the University of Georgia. Prior to her arrival at UGA, she worked full-time at her business, Mile Wide Press, printing commission letterpress jobs and making custom boxes and books. Eileen also served as caretaker for the archives of Mountain House Press, the private press of Dard Hunter, noted papermaking scholar and fine press printer. She has taught numerous workshops across the country, most recently at Haystack Mountain School of Crafts in Deer Isle, ME and at Penland School of Crafts in Penland, NC where she was also an Resident Artist. Eileen is the curator of Masters: Book Arts, published by Lark Books, featuring the work of over 40 artists considered to be masters of the craft. For 14 years, she served as a co-director of the Paper & Book Intensive and was recently on the board of Hand Papermaking Magazine. Eileen holds an MFA in Book Arts and an MLS, both from the University of Alabama.