"MACBETH" Set to Premiere at the FSU/Asolo Conservatory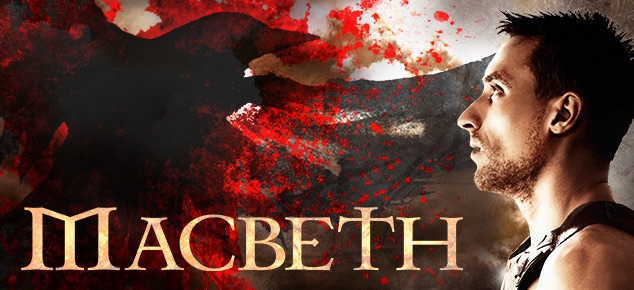 February 23 – March 13, 2016
Directed by Jonathan Epstein
Written by by William Shakespeare
(SARASOTA, January 28, 2016) — The
FSU/Asolo Conservatory for Actor Training
continues its 2015-16 season with Shakespeare's iconic
MACBETH
. An electrifyingly potent tale rife with passion, betrayal, and shadows of the supernatural,
MACBETH
is esteemed worldwide as a masterpiece of linguistic genius and dramatic brilliance. Since 1849 it has had nearly 50 Broadway runs and over 10 adaptations for film and television in the U.S. and around the world. It has been adapted into numerous books, has had dozens of performances on the radio, and has influenced artistic pieces by Henry Fuseli, Johann Zoffany, and others. Directed by Shakespeare expert Jonathan Epstein,
MACBETH
previews in the Cook Theatre at the FSU Center for Performing Arts on Tuesday, February 23 at 7:30pm with a special "Pay What You Can Performance," officially opens on Wednesday, February 24 at 7:30pm, and runs through Sunday, March 13.
The revered Macbeth, Thane of Glamis, returns from war as a hero in the service of his king. Upon his arrival home, three witches intercept him to deliver a mysterious prophesy, declaring him the future King. The promise of power births a deep desire for the throne, and when his wife, the Lady Macbeth, hears of his foretold fortune, she spurs him to take action. Rampant ambition and desperate pride turn hero to tyrant—and reveal the twisted effects that evil can have on a man's mind in what is perhaps the most renowned tragedy ever to overtake the stage.
"This seems to me Shakespeare's most haunting play," said director Jonathan Epstein. "In no other play do we experience such suspense and at the same time such certainty about what must happen. In no other play is the bond between the couple at the center of it so visceral, so sensual, so complex or so destructive. It is a dark and fatal world illuminated by flashes of brilliant, deathless imagery."
A seasoned Shakespeare actor, director and teacher, Epstein has more than 25 years of experience working with Massachusetts' Shakespeare & Company, as well as numerous roles on Broadway, Off-Broadway, and in London's West End. He currently teaches Shakespeare acting technique to the second-year class of the FSU/Asolo Conservatory.
Instead of re-setting MACBETH in a distinctive place or time period, Epstein implements a design that allows the audience members' imaginations to take over and create their own worlds. Several movable, opaque screens combined with various lighting effects establish the setting, and post-apocalyptic-inspired costumes stimulate the imagination, shaping a unique experience for each audience member.
"We created a survivalist world that is as rough, rustic, and textural as the story itself," said costume designer Becki Stafford.
"MACBETH is one of the great plays in the Western Canon, and it is a spectacular opportunity for our entire second year class to showcase its talents," said Greg Leaming, Director of the Conservatory. "All 12 second-years will be taking part in what promises to be thrilling night of theatre."
Cast
(In order of appearance)
The Wayward Sisters……………………………….Jillian Courtney, Kelly Elizabeth Smith, Jessie Taylor
Lady Macbeth………………………………………………..Danielle Renella
Duncan, King of Scotland…………………………..Michael Fisher
Malcom, Duncan's eldest son………………………Kelly Elizabeth Smith
Macduff, Thane of Fife………………………………Jessie Taylor
The Thane of Rosse…………………………………Jillian Courtney
Donalbain, Duncan's second son………………….Michael Fisher
Macbeth, Thane of Glamis………………………….Brett Mack +
Banquo………………………………………………..Brandon Maldonado
Seyton…………………………………………………Jacob Sherburne
Fleance, Banquo's childe……………………………Jessie Taylor
Hecate…………………………………………………Rob Glauz
Lady Macduff………………………………………….Kelly Elizabeth Smith
Young Macduff……………………………………….Danielle Renella
Killers………………………………………………….Michael Fisher, Scott Kuiper,
Brandon Maldonado, Mike Perez
A Doctor………………………………………………Jillian Courtney
+ Appears courtesy of the Actor's Equity Association.
About the Director
JONATHAN EPSTEIN is in his third year with the FSU/Asolo Conservatory, where he is responsible for the Shakespeare performance training of the second-year MFA candidates. His directing credits include A Moon for the Misbegotten, Henry V, King Henry the Fourth, Coriolanus, Women of Will, The Hollow Crown, Barnes & Noble Conquer the World, An Iliad, The Pretext and The Verdict among others, including last year's production of As You Like It and the previous year's Loot here in the Cook Theatre. As an actor he has performed on and Off-Broadway, in London's West End, and at dozens of regional theatres across the country, but is probably best known for his 25-year association as actor, director and teacher with Shakespeare & Company in Lenox, Massachusetts. His roles with that company have included everything from kings to clowns – Lear, Macbeth, Richard III, Feste, Touchstone, Dogberry, Puck, Benedick, Bottom and scores of others. He was text and sonnet teacher in more than 30 of the company's month-long workshops for professional actors. This summer at Shakespeare & Company he will be performing in Tina Packer's Production of The Merchant of Venice. He is a two-time recipient of Boston's Elliot Norton award for Outstanding Actor.
About the Conservatory
The FSU/Asolo Conservatory for Actor Training is a celebrated three-year graduate program culminating in a master of fine arts degree. For more than 35 years, tens of thousands of actors from across the continent have auditioned for admission. A maximum of 12 students are admitted each year. In their second year, the students perform in the Cook Theatre, a 161-seat space designed to create an intimate experience for the audience and actors. Third-year students are seen on the Mertz Stage working with the Asolo Rep's professional actors in exciting and significant roles.
Tickets
Tickets for MACBETH and the remaining 2015-16 Conservatory season are on sale now at $28 for matinee performances and $29 for evening performances. To purchase tickets, call 941.351.8000 or 800.361.8388, visit www.asolorep.org, or visit the Asolo Repertory Theatre Box Office, located at 5555 North Tamiami Trail in the FSU Center for the Performing Arts. Box Office hours are Monday 10am–4pm, Tuesday–Thursday 10am–7:30pm, Friday–Saturday 10am–8pm, and Sunday 10am–2pm. The box office closes at 5pm when there are no evening performances, and phone lines close one hour prior to the start of any performance.