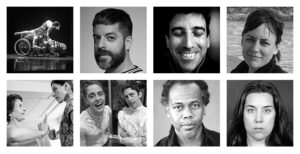 Championing time and space for the creative process, MANCC begins the season by hosting AXIS Dance Company. A nationally acclaimed, physically integrated repertory company from Oakland, California, AXIS has invited choreographers Nichole Canuso (PA), Jill Sigman (NY) and Beth Gill (NY) to research and develop new material within MANCC's laboratory setting. Choreographer Miguel Gutierrez will return to MANCC to further pursue his acutely honest examination of performance and mid-life career anxieties within a queer context, particularly the relationship between sacrifice and possibilities of transformation.
HIJACK and Luciana Achugar, also returning choreographic fellows, will explore movement in separate residencies through distinctly different paths—the collaborative duo HIJACK through a return to improvisation and tuning scores in generating choreographic material and Achugar by re-employing choreographic structure as she continues to explore pleasure through communal experience. DD Dorvillier, in proposing new ways to think about and experience abstraction, will look at the formal tensions and impossibilities that can exist between the discrete mediums of sound, light and moving bodies. David Neuman, by contrast, will test theatre and dance-making methodologies in creating intersecting human portrayals that link ideas of mortality, weather and technology within a structural rather than literal framework of Noh theatre. And for the first time, MANCC will host Ragamala, the esteemed Minneapolis-based Indian classical dance company that is steeped in the tradition of the Bharatanatyam form as it innovates from the company's experience of living in the United States. Prior to their MANCC residency, Ragamala's full evening work, "Song of the Jasmine," will be presented by Opening Nights on December 3 and 4, 2014.
Learn more about upcoming MANCC residencies and please join MANCC for the following events:
AXIS Dance Company Residency Reflection
October 15, 2014 @ 10:30 a.m.
Montgomery Hall–Nancy Smith Fichter Theatre
Join in a facilitated discussion by the participating artists as they reflect on how their distinct choreographic practices are explored with AXIS during the residency.
AXIS Legacy Conversation
October 16, 2014 @ 5:30 p.m.
Montgomery Hall–Black Box Theatre
AXIS Artistic Director Judith Smith and MANCC Director Carla Peterson honor AXIS's 27 year history with a conversation about the legacy of repertory companies.
AXIS w/ Nichole Canuso, Jill Sigman and Beth Gill
Oct. 5–18, 2014
Miguel Gutierrez (NY)
Dec 1–13, 2014
David Neumann (NY)
January 12–25, 2015
DD Dorvillier (NY/FRA)
March 5–13, 2015
Ragamala (MN)
March 17–26, 2015
HIJACK (MN)
March 29–April 11, 2015
Reggie Wilson (NY)
April 19–24, 2015
Luciana Achugar (NY)
May 16–27, 2015