MANCC Welcomes Returning Choreographic Fellow, David Neumann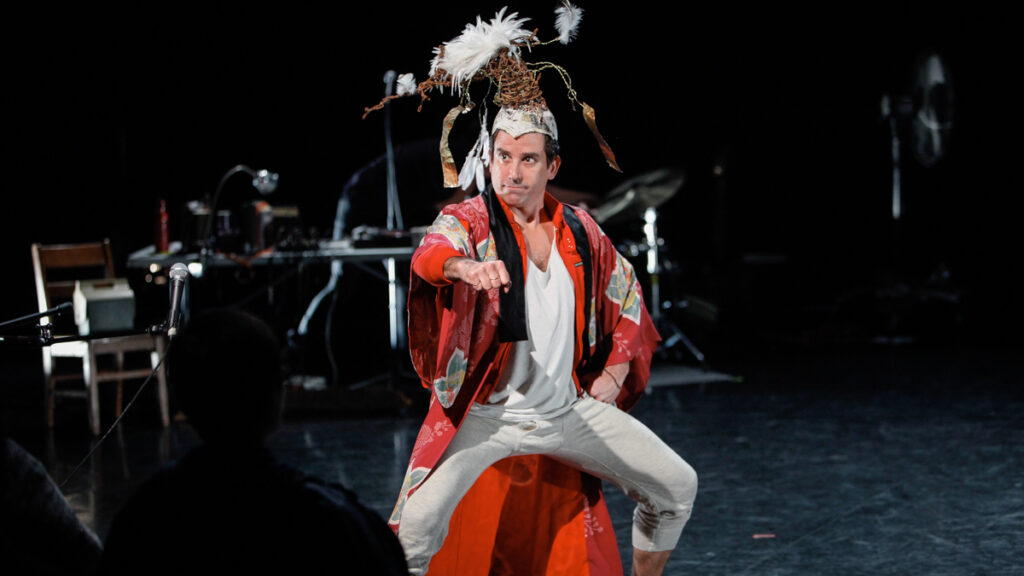 November 25 – December 3, 2017
---
The Maggie Allesee National Center for Choreography (MANCC) is pleased to host choreographer/performer David Neumann in his second of three residencies to develop his current work, Distances Smaller Than This Are Not Confirmed (working title). Neumann is the Artistic Director of Advanced Beginner Group, whose multi-disciplinary dances bring together gesture, word, and proximity to explore our contradictory lives. Through a humorous outlook he layers disciplines of experimental dance and theater to create complex works that challenge both the artist's and viewers' assumptions.
As an acclaimed performer, Neumann has been featured in the works of Big Dance Theater, Jane Comfort, Susan Marshall, club legend Willi Ninja, Doug Elkins, and Mikhail Baryshnikov. Known for his humorous approach to serious issues, Neumann's work as a director and choreographer has been presented at Performance Space 122, Dance Theater Workshop, New York Live Arts, The Kitchen, Symphony Space (where he collaborated with Laurie Anderson), the Walker Art Center, and The Whitney Museum of American Art, among others.
Distances Smaller… is a dance/theater piece inspired by his participation as the first performing artist-in-residence at the SETI Institute (Search for Extraterrestrial Intelligence) in California. Neumann tests the bounds of his own comfort zones by placing privilege, masculinity, and race in the context of the cosmic scale while relating the challenges of art-making to scientific endeavors by bringing the unfathomable scales of time and space into the theater and onto bodies.
While at MANCC, Neumann will bring together an intergenerational cast of performers, including Sara Rudner, formerly a featured dancer in the work of Twyla Tharp, Jodi Melnick, a choreographer in her own right who's worked with many notable artists, including Tharp, and Victoria Roberts-Wierzbowski. Both Melnick and Roberts-Wierzbowski have worked with Neumann in previous projects.
Neumann has received support from MANCC residencies for several of his previous projects, including FEEDFORWARD, which premiered at Dance Theater Workshop in 2007, Restless Eye, produced in partnership with New York Live Arts in 2012, and his 2015 Bessie Award-winning piece I Understand Everything Better, which premiered at American Dance Institute.
Neumann's Distances Smaller… residencies are supported by a multi-year, multi-residency initiative from The Andrew W. Mellon Foundation, which allows seasoned artists to address the needs of developing work at multiple stages. Neumann will be in residence November 25 – December 3, 2017 and again in June 2018. An open studio rehearsal will be held on Thursday, November 30th. The exact time will be announced by email. Please subscribe to the MANCC email list at mancc.org. RSVPs for the open studio will be collected by email at info@mancc.org.

The Maggie Allesee National Center for Choreography (MANCC), at the FSU School of Dance, is a choreographic research and development center whose mission is to raise the value of the creative process in dance.