MANCC Welcomes Returning Living Legacy Artist Ann Carlson
November 1-15, 2016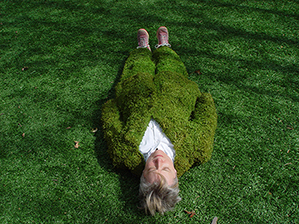 The Maggie Allesee National Center for Choreography (MANCC) welcomes returning Living Legacy Artist Ann Carlson for her third residency where she will develop Dumbo Redacted, a solo performance work that builds upon her celebrated Animal series. This piece was the focus of her spring 2016 residency, and over the next two weeks, she will resume work with dramaturg Melanie Joseph to refine the focus of Dumbo Redacted.
Carlson will also begin work on a new ensemble piece, Elizabeth, the dance, which traces personal and public histories through the lens of aesthetics, embodiment and desire. Carlson will be sketching material to build an episodic accumulation of dance/songs; working with "found" movement from modern dance history and individual dancers' experience. She plans to work with School of Dance students in this exploration.
This residency was made possible, in part, by The Andrew W. Mellon Foundation.
Entrypoints
Carlson will show her work-in-progress during a School of Dance Open Forum:
Wednesday, November 9th at 10:30am
Montgomery Hall
Black Box Studio
For additional information or to reserve a seat, please email info@mancc.org

The Maggie Allesee National Center for Choreography (MANCC), at the FSU School of Dance, is a choreographic research and development center whose mission is to raise the value of the creative process in dance.