MANCC Welcomes Visiting Artist, Grisha Coleman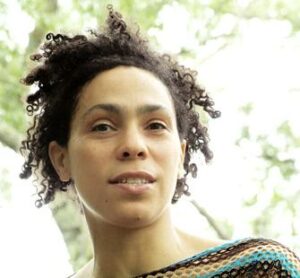 Grisha Coleman
Visiting Artist
January 4-17, 2016
Maggie Allesee National Center for Choreography (MANCC) is pleased to welcome Grisha Coleman and her collaborative team to their January 4-17 residency for Treadmill Dreamtime, running in place, the second installment of echo::system — a framework for arts-driven research and public engagement constructed to mediate connections to our environment through the practices of art and science.
Treadmill Dreamtime, running in place is an art installation and performance project that explores the dynamics of emergent systems in performance and place, by transforming abstracted information about the environment into an experiential, embodied, fully sensory event. Treadmill Dreamtime, running in place follows a fictional tribe seeking knowledge of the evolutionary future of their species. Caught in a paradox of walking without traveling, the performers' vision quest enacts an interface with the land through the blind belief in their machines. Delivered by gym treadmills, these machines become functional and metaphorical; referencing American gym culture, nomadic desert dwelling cultures, and the tradition of the Australian aboriginal walkabout, functioning as a contemporary ritual to activate memory and a greater understanding of the land, in an effort to make meaningful perspective shifts in how we interact with our environment.
The MANCC residency is a gathering place for the collaborators to further develop and integrate performance components while troubleshooting the composite for potential breakdowns and breakthroughs. Professors Lauren Weingarden of the Department of Art History and Tarez Graban of the Department of English will visit the Black Box Studio to provide dramaturgical context from their respective disciplines. Dr. Weingarden will draw from her work developing an experiential model of neuroaesthetics and the spatio-temporal dimension of experiencing Installation Art. Dr. Graban will offer insights from her research of non-artifact or place-based digital historical ecologies, as well as her investigations of theories of composition and feminist rhetorical theory. The general public is invited to an Informal Showing to provide audience/participant perspectives of the work.
Entrypoints
Studio Visit & Discussion
Wednesday, January 6, 2016
Professor Lauren Weingarden, Department of Art History
Studio Visit & Discussion
Friday, January 8, 2016
Professor Tarez Graben, Department of English
Informal Showing
Friday, January 15, 2016 at 5:30pm
Black Box Studio, Montgomery Hall

The Maggie Allesee National Center for Choreography (MANCC), at the FSU School of Dance, is a choreographic research and development center whose mission is to raise the value of the creative process in dance.