Museum of Fine Arts Presents Two Exciting Exhibitions
Anne Frank: A History for Today
Reception, January 8, 2016, 6:00 – 8:00 pm. Anne Frank exhibition January 4 – February 7, 2016.
Touring from the Anne Frank Center in New York, A History for Today is brought to Tallahassee by a coalition of sponsors: The Holocaust Education Resource Council, The Dorothy and Jonathan Rintels Charitable Foundation, the FSU Institute on WWII, and the Museum of Fine Arts funded through the Peace on Earth Gift.
Hilary Stipleman of the Anne Frank Center USA will give a K-12 teacher's workshop on ways to teach the Holocaust and also instruct MoFA student volunteers and interns in conducting tours of the exhibition. Speaking to adult and K-12 audiences in the first week of the exhibition will be author Pieter Kohnstam. Pieter and his family were neighbors of the Frank family in Amsterdam before the Franks went into hiding and before Pieter's family fled the Netherlands. The flight was chronicled in his father's memoirs which were the basis for Pieter's book A Chance to Live: A Family's Journey to Freedom (© 2006; published in Amsterdam in 2008).
The 2016 Annual Art Faculty Exhibition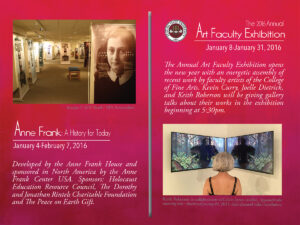 Reception, January 8, 2016, 5:30 – 8:00 pm. Art Faculty exhibition January 8 – January 31, 2016.
January is the time for MoFA audiences to catch up on the projects and recent works of the talented art faculty of the College of Fine Arts. This year, if you come early to the opening on the 8th, you'll have the chance to hear Kevin Curry, Joelle Dietrick, and Keith Roberson talk about their ambitious and inventive works that meld computer fluency with visual intrigue.
For additional information on the exhibit, visit the original promotional post.
Museum Hours: 9-4 pm M-F; Sat. & Sun. 1-4 pm. Closed Martin Luther King Jr. Day, January 18. For tours call 645-4681. All exhibitions & receptions are free & open to the public. Museum of Fine Arts: 530 West Call St., Tallahassee, Florida.