National Presentations of Dance Research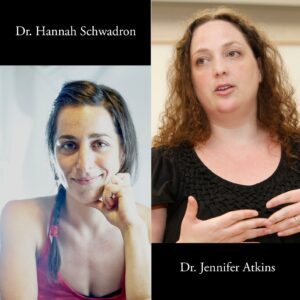 Florida State University School of Dance Assistant Professors, Dr. Jen Atkins and Dr. Hannah Schwadron have just returned from Iowa City where they presented research at the joint annual conference of the Congress on Research in Dance (CORD) and Society of Dance History Scholars (SDHS). They will also be presenting at the Popular Culture and American Culture Associations conference in New Orleans this coming April, along with two graduate students from the School of Dance.
At the CORD/SDHS conference, Dr. Schwadron's Un/Holy Methods: Facing Jewish Dance Ethnography offered frameworks for theorizing self-reflexive Jewish dance ethnography. Prompted by frequent questions about her own ethnographic research – when the research is about "her" versus when it is about "it" – Schwadron addressed the centralization of "self" in writing dance, as well as the criticism as to how and when her own body-talk is appropriate, reasonably revealing, and justifiable as scholarship. Taking cues from auto-ethnographies applicable to her own, Dr. Schwadron distinguished ethico-religious boundaries of academic acceptability against which new methods must push.
Dr. Atkins' presentation at the CORD/SDHS conference was titled "They Are All Cultivated Entertainers": Writing Dance and Desire in Storyville's Infamous Blue Books. Storyville, New Orleans' legal red-light district, thrived from 1897 until 1917.  There, men often learned of Storyville's most prominent parlors through Blue Books, expertly designed brochures which reveal a critical component of the area's allure: women who, as "cultivated entertainers," showcased the latest trends in music and especially dance. Dr. Atkins discussed how Blue Books allow us to see that dancing and the body in motion were central to Storyville. She examined the dynamic nexus of performance, power, and desire through the written and pictorial records that the Blue Books provide, ultimately unveiling gendered tensions rooted in New Orleans' erotic discourses in the years surrounding the turn of the century.
This coming April is the joint annual conference for the Popular Culture and American Culture Associations held in New Orleans, LA. Dr. Jen Atkins serves as the Dance Area Co-Chair (with Dr. Celeste Fraser Delgado, Barry University) for both associations. She will be presenting research related to social dance and gender in New Orleans at the conference. Dr. Schwadron will analyze the dancing joke-work of Jewish film stars, Fanny Brice and Barbra Streisand in two ballet parodies at key moments in Jewish American assimilation. She will draw conclusions about how deliberately bad dancing helps to advance, justify, level out, or otherwise temper the romantic aspirations of these Jewish women in positions of "unfeminine" authority. Two School of Dance graduate students will also present research at the April conference. Maddie Kurtz is exploring how Jewish contemporary choreographers employ the practice and principle of Tikkun Olam, "repairing the world," not just as thematic content, but as an actual approach to their creative process in the studio. Sarah Wilcoxon will examine jazz culture, especially jazz dance's transition from the US to France in the 1920s and 30's. She will attempt to illuminate the facets of jazz that have enabled it to appeal to a wide range of perspectives, ground diverse identities, and even define varied cultural contexts – understanding jazz as a cultural export and dialogue, inclusive of its many African American influences but simultaneously broader than its American roots.