Master Craftsman Studio Fabricates New Athletics Logo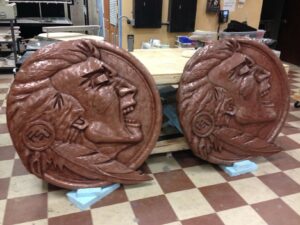 The Florida State University Athletics Department recently rolled out an updated logo this spring. Master Craftsman Studio was contacted shortly after the announcement to begin the fabrication of two large faux bronze logos. These logos have a four foot diameter and were created using a combination of high tech machinery, such as a CNC Router and hand sculpting. Once the new design was hand sculpted and approved, fabrication commenced.
From this sculpted positive, Master Craftsman Studio created a rubber mold which can be reused for years to reproduce additional logos for the University. Each logo is finished with a patina and hand polished. They will soon be installed on the brick exterior of the Doak S. Campbell Stadium in time for the fall football season. Be sure to look up and see some of Master Craftsman Studio's recent work on campus while at a football game this fall!
If you would like to learn more about Master Craftsman Studio's work and upcoming projects, please contact Sarah Coakley, scoakley@fsu.edu or visit their website at craft.fsu.edu.